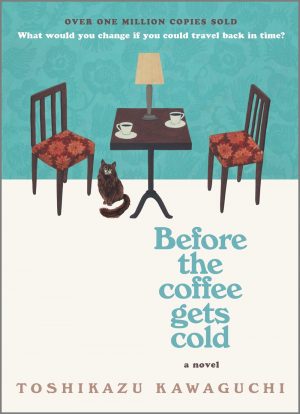 Before the Coffee Gets Cold
By:
Toshikazu Kawaguchi
Illustrator:
Sunmark Publishing Inc (Cover illustration)
Translator:
Geoffrey Trousselot
Release Date:
September 19, 2019
Publisher:
Hanover Square Press
Series:
Before the Coffee Gets Cold (#1)
Rating:
Toshikazu Kawaguchi's novel Before the Coffee Gets Cold is a slight first volume in an ongoing series expertly translated from the Japanese by Geoffrey Trousselot. The entire story takes place within a certain coffee shop, the type of tiny, cozy place only known to locals. This shop is one filled with secrets, though. A ghost occupies a certain chair, drinking her coffee just as diligently in death as she did in life. People claim that on the rare occasion she leaves her seat, the new chair's new occupant is able to go back in time and have one more conversation with a loved one.