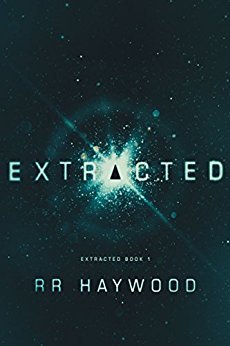 Extracted
By:
R. R. Haywood
Release Date:
March 1, 2017
Publisher:
47North
Series:
Extracted
Received From:
Publisher
(All reviews are our own, honest opinions.)
Rating:
Have you ever read a book and, when it was finished, wondered why you sat there through everything? Usually I read books I'm not liking very much because I feel like I must be missing something. Surely there is a twist that will make everything worthwhile. Perhaps I'm simply not looking deeply enough, missing some sort of grand metaphor for all the trials and tribulations of the universe. Sometimes the plot, characters, or writing simply doesn't live up to expectations.
Extraction by R. R. Haywood sounded like a fast paced time travel novel. I always love a good time travel story. Unfortunately, this book was the opposite of paced, and quickly proved to unravel in other aspects throughout the novel.