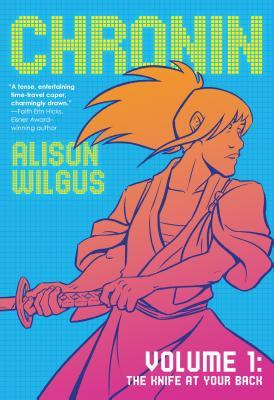 Chronin Volume 1: The Knife at Your Back
By:
Alison Wiglus
Release Date:
February 19, 2019
Publisher:
Tor Books
Series:
Chronin #1
Received From:
Publisher
(All reviews are our own, honest opinions.)
Rating:
It's no secret I love manga, but what may be less known is my propensity for the Meji Era. The crash of modernity and tradition provides a fascinating backdrop to any story (and tends to speak to my history major heart). Surprising no one, I immediately downloaded an e-arc of Chronin Volume 1: The Knife at Your Back by Alison Wiglus as soon as I saw the cover art.
Chronin is a new series by graphic novelist Alison Wiglus. The main character is Mirai Yoshida, a young woman in college in 2042, New York City. She is one of an elite team using a time travel machine to go back in time and study the period, making maps of the areas, recording lost information, etc. The past is dangerous, though, and after an attack by rebel samurai Miria is stranded in 1864 Japan, her friends dead. In order to survive, Mirai disguises herself as a samurai and winds up as a bodyguard to Hatsu, a waitress, on her travels.
It's from Mirai's point of view which we see the story. The majority takes place in 1864 Japan. Certain sections are flashbacks showing Mirai's past and how they became stranded in the late Edo Era. These flashbacks were perfectly placed, neither occurring too often nor breaking the flow of the story.
This was so much fun. It joins time travel and. The era the story takes place in is one that is exciting – when modernity ran headlong into a previously secluded Japan, the end of civil war, and the displacement of many people whose trades were no longer viable. Mirai's original home is one that's also interesting – a future not too distant from our own where time travel is new, untested, and used fill in gaps in historic records.
Mirai is somewhat unlike the usual time traveler lost in a different place and time. She is quite confident in her knowledge of the time and place she finds herself. There is no learning about the century and the country through some initial fumbles, something I've seen in other time travel stories. Instead, we learn about the time period through the beautiful scenes of Mirai and Hatsu on their travels. While Mirai might be confident in her scheme to keep her head down and stay alive in the past, she is not without her own troubles, something which becomes more apparent as the story goes on.
The art in this graphic novel is somewhat unique. Despite being drawn in a more western comic style, it is portrayed entirely in black and white, much more similar to manga. This fits the story being told extremely well. Panels are allowed to stand on their own, with some pages having no dialogue at all.
Chronin Vol. 1: The Knife at Your Back by Alison Wiglus is a fun graphic novel with a beautiful, unique art style. I am absolutely going to continue with this series.