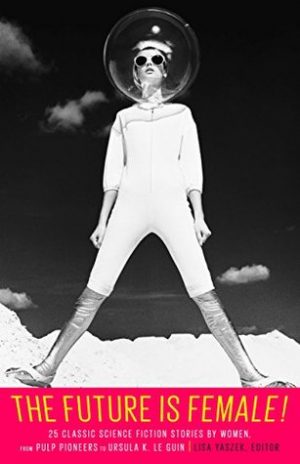 The Future Is Female! 25 Classic Science Fiction Stories by Women, from Pulp Pioneers to Ursula K Le Guin
By:
Lisa Yaszek (editor)
Release Date:
September 25, 2018
Publisher:
Library of America
Rating:
Anthologies can be tricky beasts. Even in themed anthologies, authors and their stories can be very varied, sometimes wildly so. The Future is Female! 25 Classic Science Fiction Stories By Women, From Pulp Pioneers to Ursula K. Le Guin is an anthology from editor Lisa Yaszek that defies all expectations. Each story is better than the one preceding it. Each one is memorable, lingering in the back of your mind long after moving on to the next tale. Each one is the sort of story that could be pointed to and said, 'This is the heart of science fiction. This is our legacy. This is what we aspire to.'
The Future is Female is quite a long anthology comprised of several sections. An excellent introduction, written by the editor, Lisa Yaszek, kicks off the collection. The vast majority of the book is, of course, the stories. These are science fiction short stories originally published in literary magazines and the like between 1928 and 1969. At the end a biography section can be found, giving each of the 25 authors a page or so's worth of information. And, interesting, a bibliography section – something appreciated but not something I've noticed many other, similar titles to have.
The anthology is worth reading for the introduction alone. Yaszek does a truly excellent job outlining the early days of modern science fiction. Misconceptions about the state of women in the genre during that time period are addressed. And some of the great women authors of the time are briefly outlined.
The short stories themselves, though, are the true stars of the show. None of the stories are inaccessible in any way; their age doesn't show. The utter magnificence of prose and storytelling shine. Settings and themes are extremely varied, some stories being set on a post-apocalyptic earth while others were set off-world and in the far future.
Some of the authors are familiar names – Ursula K Le Guin, James Tiptree Jr., ect. Others were new names, authors I'd not read and not heard of, but ones whose work I will undoubtedly pursue further. There is a story and an author for everyone here.
I cannot recommend this anthology enough. The Future is Female! 25 Classic Science Fiction Stories By Women, From Pulp Pioneers to Ursula K. Le Guin, edited by Lisa Yaszek, is a truly phenomenal collection of short stories from women authors. Check this one out. There will, undoubtedly, be a story within these pages that stays with you for quite a long time to come, and an author whose body of work you will undoubtedly collect.