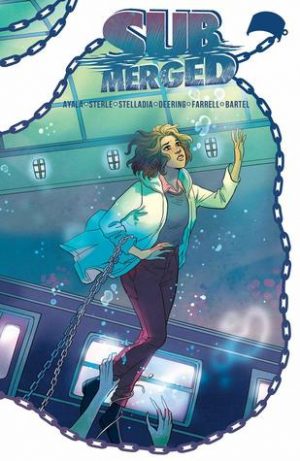 Submerged
By:
Vita Ayala
Illustrator:
Lisa Sterle (artist); Stelladia (colorist); Rachel Deering (letterer)
Release Date:
February 12, 2019
Publisher:
Vault Comics
Received From:
Publisher
(All reviews are our own, honest opinions.)
Rating:
A graphic novel of true beauty, both artistically and literarily, Submerged Volume 1 by Vita Ayala and Lisa Sterle is a brand new release not to be missed. This is a story of many things. It is a story of family, a story of coming to terms and letting go, it's about relationships. It is a story many can relate to, on one level or another, and one that is so very worth reading.
Elysia Puente, is a young lesbian woman living on her own in New York City. Upset with her brother, Ellie doesn't take his call, only later listening to a desperate, panicked voicemail he left. Knowing her brother, Angel, is in terrible danger, Ellie follows his trail into the subway, one that doesn't seem quite normal. Ellie is in a race against time, fighting both whatever is after Angel and the hurricane bearing down upon them, flooding the subway tunnels.
The relationship Ellie has with her brother, mother, and father is told slowly. The relationship with Angel is strained, but holds enough love to send Ellie searching for him when she realizes the sort of danger he's truly in. However, the true extent of these complicated familial relationships comes to light gradually throughout the course of the story.
This is partially done through the use of flashbacks. These are normally short, sometimes less than a page, and expertly woven into the current plotline. In particular, using the subway car windows to show short, poignant flashbacks.
The story is filled with the fantastical, mythical, and surreal. The subway system, a place already filled with mystery and shadow, is transformed into another world. The mythological references aren't difficult to spot, necessarily, but they aren't always overt and could sometimes be missed by those who don't necessarily read a lot of fantasy mythology-heavy works. However, they were excellently placed and used.
Many of the dialogue lines are in Spanish. While I don't speak Spanish – nothing beyond hello, thank you, and the sort – understanding was not a problem. Context is usually all that's needed. More than that, it added a level of realism to a bilingual family that isn't often shown, something I've seen when visiting with friend's families and with my own, older, Polish immigrant relatives during my childhood.
Submerged Volume 1 by Vita Ayala and Lisa Sterle is a wonderful story meshing fantasy and the surreal with the struggles of familial relationships. I devoured this graphic novel, and wholeheartedly recommend picking up a copy for yourself.