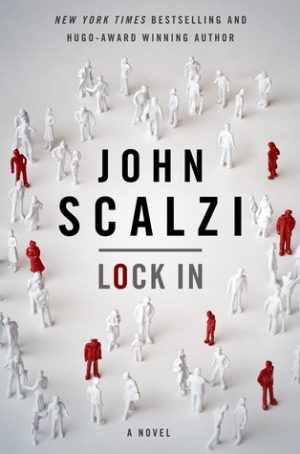 Lock In
By:
John Scalzi
Website:
http://whatever.scalzi.com/
Release Date:
August 26, 2014
Publisher:
Tor Books
Series:
Lock In #1
Award:
Locus Award Nominee for Best Science Fiction Novel (2015); John W. Campbell Memorial Award Nominee for Best Novel (2015); ALA Alex Award (2015); Goodreads Choice Award Nominee for Science Fiction (2014)
Rating:
There is nothing better than a stay up till three am binge read. Lock In by John Scalzi was exactly that book. I picked it up late one evening and then read the entire thing. Because who needs sleep, really? This is a science fiction novel with strong mystery/thriller themes that is easy to read and perfect for people who want to delve into the sci-fi genre for the first time.
How good is this book? Well, I immediately went out and bought his newest novel, The Collapsing Empire, two days later. So, yeah. That good.