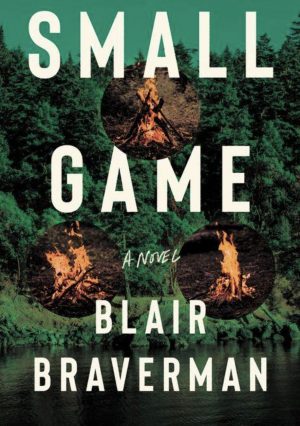 Small Game
By:
Blair Braverman
Release Date:
November 1, 2022
Publisher:
Ecco
Rating:
Nonfiction author Blair Braverman (Welcome to the Goddamned Ice Cube, 2016) turns her hand to fiction in Small Game. This thriller novel is set in a landscape familiar to the author: the wild, forested landscape of the US. Braverman's well-known survivalist skills are well utilized throughout the novel, adding a welcome sense of realism to a situation that is far from everyday.
Mara, an instructor at a survivalist school, welcomes the six-week filming schedule of an upcoming reality show she was chosen to partake in. It'll be a good fresh start and put her sharply honed skills of surviving in the wild to good use. After arriving at their hidden, unknown filming sight, Mara finds things going from difficult to dire when the small cast find themselves alone and abandoned somewhere in the hilly American wilderness.
As expected, wilderness survival is imperative to the tale, and Braverman's experience in this regard shines through. Broken bones can mean death. Taking along the wrong tools can prove disastrous. Not only are the difficulties of surviving in total wilderness with no modern comforts or technology very thoroughly depicted, living in the wilderness with a too-small group of people and overestimation of self-reliance are examined too. Mara can certainly put her money where her mouth is, but she also has room to grow and make mistakes, not always proving as self-reliant as she thinks.
While survival skills are vital to the narrative, and themes such as rewilding versus modern society are discussed, neither are quite the thematic focus of the novel. Instead, one of the major themes is how personal choices affect others. More importantly, how personal choice can royally screw others over and directly lead to unnecessarily adverse situations are examined. This is all done with a rather deft hand. Consequences of early decisions evolved again and again, reverberating throughout the narrative.
A moderate pace turns what could be a fast-paced thriller into a slower, more introspective tale. The long, languid days spent searching for food and trying to conserve energy feel all the more real, the anxiety of characters oozing off the page. A romance between Mara and another female character builds slowly, though we aren't necessarily privy to the long-term decisions these women make on where, if anywhere, their relationship will take them post-reality-show.
This leads to the most aggravating part of the novel: it ultimately proves wholly unsatisfying. Very few, if any, plot threads are neatly wrapped up. In the majority of cases, plots are not ended at all. We don't know what happened to crew or Lenny. The reasons for their disappearance are never gone into, despite being one of, if not the, major turning points of the story. What fully happens with Mara's old and new relationships isn't revealed in any sort of meaningful or satisfying way. Even the characters' escape from their woodland prison isn't fully told. Instead, the final chapter ends abruptly with only a single page trying to wrap up their escape and the aftermath.
It would be easy to understand if readers thought a chapter was missing from the printing with the abruptness of the novel's conclusion. This is made all the more bitter as much of the rest of the text was enjoyable. Small Game proved an interesting read, and one that prompts a desire to read Braverman's nonfiction. However, this foray into fiction wasn't quite as successful as this reader thought.