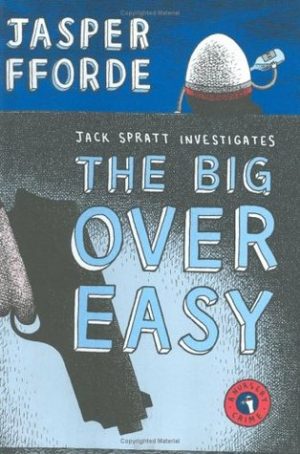 The Big Over Easy
By:
Jasper Fforde
Website:
http://www.jasperfforde.com/
Release Date:
July 11, 2005
Publisher:
Viking Adult
Series:
Nursery Crime #1
Award:
Lefty Award Nominee (2006)
Rating:
There's something almost magical to be said for a library book sale. Are just so many books, and that cash just can't stay in my pocket. I picked up this book on a whim. Never heard of the author before, but the title sounded interesting and it'd been quite some time since I settled down with a mystery story to boot.
I was excited! It sounded so different, so fun! I immediately told my husband, mother, and mother-in-law all about the synopsis. Reactions ranged from 'that sounds kind of familiar' to 'pretty sure I read that, didn't you?'. Apparently I'm the only one who hasn't heard of The Big Over Easy, the author Jasper Fforde, or any of his other books.