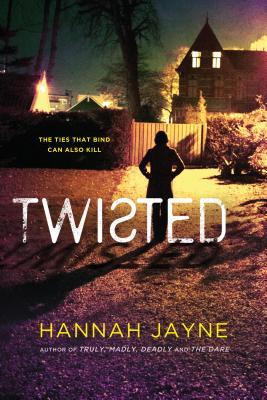 Twisted
By:
Hannah Jayne
Website:
http://www.hannah-jayne.com/
Release Date:
July 5th 2016
Publisher:
Sourcebooks Fire
Rating:
Titles are tricky so, when a title that is only one word can get my attention I will grab the book off the shelf, read the synopsis and, if intrigued further, buy the book immediately. That is exactly what happened with me when I saw this title at Barnes and Noble.
While I enjoyed this book I have to say I had hoped for a bit more. Bex, whose life had been complicated and quite frankly, traumatizing, was a bit naive for me. Unlike most teenagers in similar genres that are sometimes too smart for their own good Bex, while intelligent, is just a little slow on the uptake. Perhaps it's because I'm used to similar novels having characters that are a bit more curious (to a fault) or perhaps I'm being harsh on Bex but either way I had hoped for a bit more gumption and quickness from her.
Something I enjoyed was that Bex, unlike most characters, successfully reinvented herself and found a family she could do that with. Denise and Michael are the epitome of what good people, good parents are. They aren't perfect but honestly, adopting a teenager with a foggy past is a big step and these people are what all parents, foster and biological, should be. While not entirely realistic (or at least, entirely realistic) I was glad that Bex hadn't gone from one bad situation (psycho killer father & foster care) to a another (a bad home).
Something I loved about Bex and her personality was that her train of thought, especially when it comes to fitting in at her new school and dating Trevor. Her mannerisms around new peers and love interests was on point. Her internal dialogue, especially when she was alone with Trevor, was relateable, adorable and realistic.  
One thing I enjoyed was the sensationalism around Bex's father. From the media moniker "The Wife Collector" to his perusing online chat groups about him it was intriguing. It was on point with what psychologists believe about most serial killers and it added a twist to Bex and how she reconnected with her father.
Another plus for this book, and for Hannah Jayne's writing style, was the fast pace. It was a quick read and things happened with good timing to keep me turning the pages. The ending is satisfying if not super exciting but honestly, given the quick read and overall enjoyable nature of the story it's worth the ending that you get. If you're looking for something quick, enjoyable and overall satisfying this is a good choice. I also can say with confidence that I will be looking into Hannah Jayne's other works.