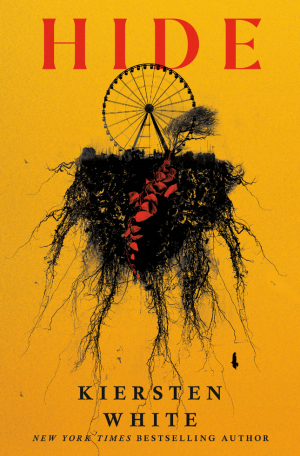 Hide
By:
Kiersten White
Release Date:
May 24, 2022
Publisher:
Del Rey Books
Rating:
Prolific author of young adult books Kiersten White turns her literary hand to adult fiction in Hide. Mystery, horror, and thriller elements are combined into an intriguing tale set in an inherently eerie location—an abandoned amusement park.
This is a novel about an eclectic group of people who are invited to an old, abandoned amusement park. Our main character, known only as Mack, is down on her luck in every sense of the word. Out of cash with nowhere to live and no family, she jumps at the chance to win the cash prize. This reality game show doesn't sound too difficult, either. All she needs to do is hide and not be caught. Mack doesn't think it sounds so difficult, especially considering that hiding is something she's already proven her skills with.
The opening pages of Hide is one of the most suspenseful, terrifying beginnings to a novel I have ever read. True fear emanates off the page, and even the most seasoned reader of horror will certainly find themselves immediately drawn in.
Unfortunately, this momentum doesn't continue for the entirety of the novel. The book shifts from tight prose that evokes tension even in quiet moments to a lighter, thriller-esque tone with the fast pacing to match. This is, by far, the novels greatest flaw. The slow, terrifying game of hide-and-seek set in an abandoned amusement park reads more like a frantic children's game rather than the "turned on its head terror-fest" promised in the book's opening.
On a similar note, most characters remain extremely distant. Not enough time is spent with any character aside from our protagonist, though this is understandable to a degree, considering the rules of the game Mack finds herself in. Characters blending together does mean readers won't feel that fear, that sense of dread, as things escalate and individuals find themselves in danger.
The book isn't only hide-and-seek gone wrong. Plenty of mysteries abound, ranging from our protagonist's background and the unknown horrors lurking in the theme park to the unknown aspects of other contestants and the strange, secluded town the amusement park is found in. These are all rather interesting, and the vast majority do have very satisfactory answers. At the same time, a few of the things introduced, especially those found later in the novel, can feel a bit out of left field, with yet another genre and new tone added to the mix. Hide is a novel of very high highs and disappointing lows that neither dedicates itself wholly to one genre or style nor marries these genres and styles together in a believable way. The mysteries presented are intriguing, however. And when the suspense and horror aspects are brought to the forefront, the novel is absolutely spectacular. White does have a talent for horror writing, one I'd be very interested to read in future books.