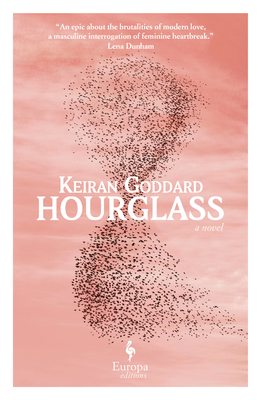 Hourglass
By:
Keiran Goddard
Release Date:
February 14, 2023
Publisher:
Europa Editions
Award:
Desmond Elliott Prize Nominee for Longlist (2022)
Received From:
Publisher
(All reviews are our own, honest opinions.)
Rating:
Keiran Goddard's 2022 novel Hourglass straddles the line between prose and poetry, giving readers a lyrical insight into love in all of its aspects: yearning for love, finding love, and losing love. Goddard has previously published two volumes of poetry titled For the Chorus and Votive. His works have also been shortlisted for both the Melita Hulme and William Blake prizes. Hourglass is his first novel, however, and one that certainly succeeds in what it sets out to do.
The tale is told from the first-person perspective of an unnamed narrator. Interestingly, I was under the impression the narrator was a woman for more than half of the book, though it does become clear later in the late that they are, in fact, a man. This is a boon to the tale. The elasticity of the narrator's point of view is something that many people can identify with in one manner or another, and it can be easy to understand if not sympathize with him.
This is a love story, but one told beginning at the end, reminiscing about a love that's run its course with a narrator discussing events amidst heartbreak. Much time is taken in describing his life leading up to meeting her, his relationship with her, and how he moves on (and never moves on) after their relationship had run its course. It's a love letter, a warning, and a glimpse of a mundane life with ups and downs and loves and losses told in a way only a poet could ever tell—in those tiny, quiet moments that mean everything and yet seem so insignificant in the moment. Mostly, though, this a book about the loss of love. The large, momentous moments, the no-turning-back events, are largely not found within these pages. Instead, Hourglass examines all of the tiny things, the small, intimate ways love is dismantled and the wreckage left over afterward.
Our nameless main character isn't always a nice person. He is sometimes whiny. Other times he comes across as quite juvenile. Yet, he never comes across as unbelievable. He is a person struggling with the loss of love, with heartbreak, with not having those small, nonromantic intimacies any longer. There is much within these pages readers will find universal, lending the book to wide appeal.
The book itself is interestingly formatted. Chapters are two pages each, and paragraphs are broken into only a single line or two. Additionally, the book is split into several cohesive parts. This culminates in a very digestible tale that is satisfying in a unique way; readers feel as if they've made a great deal of progress no matter how much they've actually read. At the same time, it works as a very effective device the writer uses to reflect the passage of time in the narrator's life and his romantic relationship.
It is truly amazing just how few words Goddard needs to describe the indescribable. The lilting, poetic prose is a joy to read, and by design and skill, time flies while reading Hourglass. This is a book very worth picking up, especially for readers who enjoy poetry, examinations on love and loss, and anyone who veers towards the literary side of fiction.