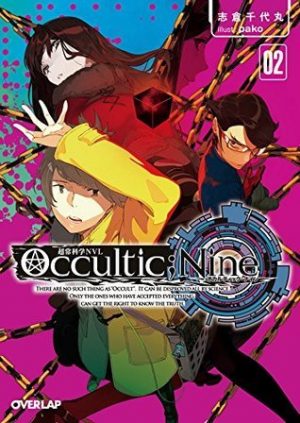 Occultic;Nine Vol 2
By:
Chiyomaru Shikura
Illustrator:
pako
Translator:
Adam Lensenmayer
Release Date:
Feb 25, 2017
Publisher:
J-Novel Club; Seven Seas
Series:
Occultic;Nine #2
Received From:
Publisher
(All reviews are our own, honest opinions.)
Rating:
It has been quite a while since I've binged a series like I am with this one. Occultic;Nine, Vol. 2 by Chiyomaru Shikura is a truly great second volume in this series by the creator of Steins;Gate.
Yuta Gamon is a high schooler who runs a blog called Kirikiri Basara, which is dedicated to debunking the occult and local legends. But local happenings are beginning to be more difficult to debunk, and soon a group of nine people, virtual strangers, find themselves drawn together through the blog. Together, they must get to the bottom of things once and for all before things go from bad to worse.
The stakes are risen in the second volume of this light novel series. By now, the main characters are largely all familiar with one another, which allows for more time dedicated to the main mystery and less on introducing characters to both the reader and one another. The main mystery begins to fully evolve. Despite answers being found, question after question is continually asked.
I must admit that I found Yuta a bit grating in the first volume. Here, though, the change in his character is stark. Pressure and fear are clearly affecting him, and he begins to change. Making a reader sympathize with and fear for a character they initially disliked is a very real talent. Even with so many characters, character development isn't something that is forgotten, and is very easily seen here.
Tensions ramp up towards the ending of this volume. The pacing increases, making the book very easy to devour. The point of view continues to shift from one character to another, though this time it tends to focus a little more on Yuta. For his part, Yuta is a more sympathetic here than in the first volume. Events have begun to change him a bit, shifting priorities and behavior.
I thought the first volume had a good cliffhanger. I was not ready for the level of cliffhanger in volume 2. Seriously, this is the sort of cliffhanger that will make you seek the third volume immediately.
If you haven't yet read Occultic;Nine Vol 2 by Chiyomaru Shikura and with art by pako, I'd highly suggest picking up a copy. This is a fantastic series that only gets better with every volume.