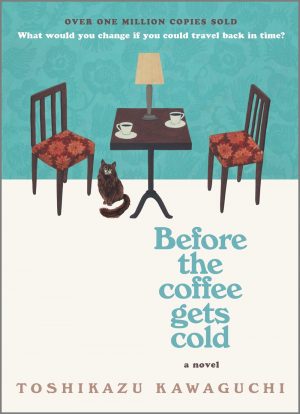 Before the Coffee Gets Cold
By:
Toshikazu Kawaguchi
Illustrator:
Sunmark Publishing Inc (Cover illustration)
Translator:
Geoffrey Trousselot
Release Date:
September 19, 2019
Publisher:
Hanover Square Press
Series:
Before the Coffee Gets Cold (#1)
Rating:
Toshikazu Kawaguchi's novel Before the Coffee Gets Cold is a slight first volume in an ongoing series expertly translated from the Japanese by Geoffrey Trousselot. The entire story takes place within a certain coffee shop, the type of tiny, cozy place only known to locals. This shop is one filled with secrets, though. A ghost occupies a certain chair, drinking her coffee just as diligently in death as she did in life. People claim that on the rare occasion she leaves her seat, the new chair's new occupant is able to go back in time and have one more conversation with a loved one.
Such an endeavor doesn't come without its fair share of difficulties and rules. Traveling back in time can only happen once, and you cannot leave your seat at that specific table. Most importantly, you can only stay so long as your coffee is warm; it must be drunk before then, returning you to the real world.
Much of the tale is introspective. The cast of characters is small, and at first, the only thing which seems to join them is the patronage of the coffee shop. Yet their lives become inescapably twined in ways not originally foreseen.
Some characters travel back in time to converse with loved ones hit harder than others. Similarly, some character's decisions feel a bit traditional, even old-fashioned, to modern American eyes. This conscious decision by the author seems two-fold. First, to show that decisions are made that cannot be taken back, and second, that each person must choose their own path in life, regardless of what others may wish or say. Even so, certain events and character decisions may turn off or frustrate readers.
The incredibly closed setting of the interior of the coffee shop works extraordinarily well for the novel, enhancing rather than restricting the story. This is of little wonder, though, as Kawaguchi is a playwright first and foremost. This very series is, in fact, adapted from a play by 1110 Productions and written by Kawaguchi, which, incidentally, won the 10th Suginami Drama Festival's grand prize.
How much is gleaned from each tale and enjoyment levels will most likely stem from how the readers personal philosophies align with what the collection presents. Still, the setting and mechanics behind the time travel aspect are unique and intriguing, and are sure to pull even reluctant readers through to the end. This slim collection is set for an additional installment in the series, which is also set to be a collection of short stories.