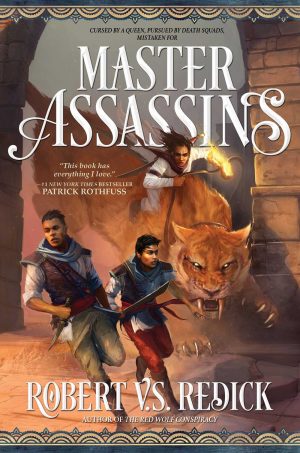 Master Assassins
By:
Robert V.S. Redick
Illustrator:
Lauren Saint-Onge (Cover Artwork); STK-Kreations (Cover Design)
Release Date:
March 6, 2018
Publisher:
Talos
Series:
The Fire Sacraments
Award:
BookNest Award Nominee, Best Traditionally Published Novel (2018)
Received From:
Publisher
(All reviews are our own, honest opinions.)
Rating:
A truly wonderful tale is told in Robert V.S. Redick's Master Assassins. The Fire Sacraments series starts off with one hell of a bang in a tale which follows two brothers—Kandri and Mektu Hinjuman—in desert world wracked with war that is only urged on by the Prophet, though some claim her to be nothing more than a madwoman.
The pair cannot be more different. While Kandri is skilled at saying the right thing and blending in, Mektu is impulsive, often landing himself into nothing but trouble, and is convinced that he is stalked by a demon spoken of in hushed whispers. Events quickly spiral out of control when holy blood is unwittingly spilled, for no matter how much they may plead their innocence, no one will believe that the brothers are anything less than master assassins, contracted killers with a dastardly end-goal. Armed with secrets, strange allies, and nothing but their own luck and quick thinking, the brothers set off on a journey to a distant land far away from the enraged Prophet and the armies in search of them.
Rather than focus on the epic country- and world-spanning implications of the brother's unwitting actions, the focus remains exceptionally close. Great emphasis is put on the pair's longstanding feuding, the bonds of family, love, relationships, the weight and responsibility of the past, and choices we make and don't make that shape our lives.
The relationship of the two brothers is both beautiful and ugly. The bond, and lack thereof, between siblings is beautifully depicted. The simultaneous and competing emotions of love and hate, the willingness to do anything for your sibling along with the urge pitch them off a cliff, the secrets kept away from one another and secrets held together and taken to the grave are all shown to their fullest potential.
Readers of fantasy are sure to love Redick's Master Assassins.