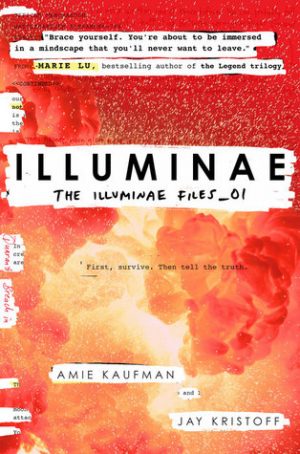 Illuminae
By:
Amie Kaufman; Jay Kristoff
Website:
http://amiekaufman.com/ ; https://jaykristoff.com/
Release Date:
October 20, 2015
Publisher:
Knopf Books for Young Readers
Series:
The Illuminae Files #1
Award:
Audie Award for Multi-Voiced Performance (2016), Aurealis Award Nominee for Best Science Fiction Novel (2015), Australian Book Industry Award (ABIA) (2015), Goodreads Choice Award Nominee for Young Adult Fantasy & Science Fiction (2015)
Rating:
Have you heard of Illuminae by Amie Kaufman and Jay Kristoff? Somehow I missed the memo when it first came out, so here I am one year later finally jumping on the hype train. A sci-fi novel with unique formatting, pretty pictures and diagrams, a rogue AI, and giant space ships, what more could I ask for? Oh, and if you like YA and a smattering of romance Illuminae has that covered for you as well.
This is the story of Kady and Ezra, two teens whose day goes from a terrible morning as they end a year long romance to cataclysmic by lunch time when a rogue ship opens fire on their city. Sure, the mining colony might not be entirely legal, but wiping it off the face of the map is a pretty big overreaction. And their attackers don't want witnesses. Crammed into three ships, the survivors struggle to outrun their adversaries, all while dealing with an outbreak of an unknown plague and a secret the higher ups are willing to kill in order to cover up.
The format of this book is very unique, perhaps more so than other novels that can also claim the unique formatting title. The first page of the book is a message from someone compiling a report on the Kerenza Disaster, a full scale attack on the not quite legal mining colony of Kerenza. We have emails and instant messaging conversations between the characters. There's security camera footage and recorded conversations. There are mission reports and other formal reports to higher ups on the ship. Some great commentary is added into the margins in some places by the supposed compiler of the text. The page design is beautiful, and there are some very wonderful graphics.
While I haven't taken a look at the ebook version of Illuminae, I can't help but feel that something would be lost in translation. A lot of work was put into making this book look perfect, and I really think the publisher and authors nailed it. Some sections are made to be seen over two pages, and I can't image them translating very well to an e-reader. This is definitely a book you want to experience in its physical form.
While I do love the formatting and feel it adds to the reading experience, it isn't always done flawlessly. There are a few sections where the text follows a curving, whimsical pattern against a starry background. While very beautiful and well suited to the text as a whole, it does require some neck craning and book turning. What I feel most conflicted over was the decision to black out all curse words. The very first page makes mention of this, the compiler commenting on the logic behind it. This gets very old very quickly for me. It isn't very hard to figure out which word is supposed to be included. Now, it isn't as if there are blocked out curses on every page. This is just a pet peeve of mine, and more annoying than actually problematic.
Ezra and Kady, the main characters, feel very much like high schoolers, something that, I think, not every book about teenagers actually manages. The characters retain aspects of their age throughout the story while growing considerably, and quickly. Given the circumstances, this is of little wonder. Both had their home destroyed and lost family members. Ezra was conscripted into the military due to a lack of manpower and the encroaching enemy ship still intent on destroying them. Kady sticks with what she does best – hacking – while looking for answers the higher ups are determined to keep hidden.
The vast majority of the dialogue between Kady and Ezra is through instant messaging, and it shows. The dialogue reflected this. I think it's universally true that when we use instant messaging or text messaging we speak a bit differently than we would aloud, or even in an email. This is true here as well. It feels like two teenagers who know each other very well talking through instant message. This makes it feel very real. On the other hand, there were a few times when it got a little irritating. If you think this will annoy you to no end, be forewarned.
To be honest, it did take me a little while to really get into the story. I didn't feel terribly connected to the characters at first. Despite being in the middle of a disaster, there is still a good amount of focus on the shattered first love between Kady and Ezra. And while this makes sense – life goes on, after all, even during times of immense hardship and especially when your lost love is the only thing left to hold on to – I was more interested in the destroyed colony, giant spaceships, and impending doom than any romance.
And on that front Illuminae definitely delivers. I really liked the way Illuminae portrayed the slow chase. Tension built up along with a very real sense of helplessness and dread. The enemy was a real, ever constant threat, and interstellar battles well timed. The real action probably starts around the halfway point. Once it starts, it doesn't let up until the very end.
Despite the breakneck pacing and high action within the second half of the book, the characters are still treated with extreme care. I grew to love both Ezra and Kady. The more minor characters are also treated with that same amount of care. I found myself growing rather attached to the pilots Ezra works with, the hackers Kady worked with, heck, even the AI.
Yes, you read that right. The ship Alexander's AI has very real character development. Though I've seen the concept of a rogue AI before, this novel did a truly exceptional job in its portrayal. The rogue AI is one of the best, most frightening AI's I've ever seen in books, anime, or other media and also has, perhaps, the most character development out of the entire cast. The error messages as it speaks aloud and thinks to itself were a great added touch.
Despite the very long journey, I did feel like we needed just a little more time with the characters at the end. After all the high octane, edge of your seat action for well over a hundred pages, we really could have used a little time to cool down without the story just ending.
Honestly, I'm not totally sure how I feel about the small section at the end between Kady and Leanne. It just felt somehow lacking, especially in comparison to the page 590 some odd pages before it. We learn a good amount of information within it, things which, I'm sure, will be touched upon in future books. But in comparison to what came before it, it just felt a bit lacking.
Illuminae by Amie Kaufman and Jay Kristoff is an edge of your seat young adult science fiction novel. Despite any issues I may have had with it, I truly enjoyed this book, especially the second half, and am planning to grab a copy of the sequel, Gemina, as soon as possible. If you enjoy young adult or science fiction, definitely give this series a try. If you like books told through alternative formatting, definitely give this one a go.
Read If:
You're looking for a non-traditionally formatted book, you enjoy science fiction, you're looking for story with a great AI character

Don't Read If:
you only read books if they're in traditional format, you don't like young adult romance slipping into your science fiction,