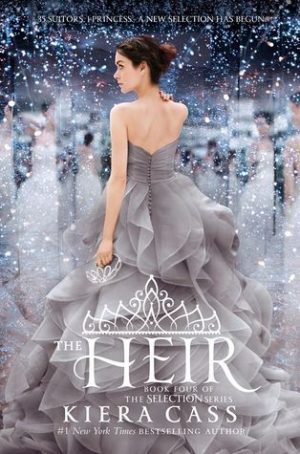 The Heir (The Selection #4)
By:
Kiera Cass
Website:
http://www.kieracass.com/
Release Date:
May 5th, 2015
Publisher:
HarperTeen
Series:
The Selection Series
Award:
Goodreads Choice Award Nominee for Young Adult Fantasy & Science Fiction (2015)
Rating:
If you have returned to the Selection Series to find out more about the future of Illéa after America Singer, Aspen Leger and Prince Maxon had their chance to stir things up in the first three books, welcome back. If you haven't read the first three books I suggest you go back and read them before reading this review or this book. Warning, major spoilers for the first three books and this book ahead.
Twenty years have passed since we left America Singer and King Maxon (now married)  and they have four children. Eadalyn, Ahren, Kaden and Osten. Eadalyn, born a mere seven minutes before her twin brother Ahren is in a unique position of power as, due to her parents changing the laws from the time they themselves took over rule of Illéa Eadalyn has, by right, the power to be the first female ruler in the bloodline.
Eadalyn, strong-headed like both of her parents, both resists and is tempted by the thought of power. However, the one thing she resists the most is her own Selection. With the castes eliminated the country is struggling to piece itself back together without the system in place so, in order to hopefully unite the people and distract them America and Maxon suggest Eadalyn hold her own Selection. Balking at the thought of marrying a stranger she agrees on two terms: three months only and, if in that time she doesn't find a partner, she does not have to choose anyone.
I will admit that I felt while reading this book there were a lot of similarities between this story and the  previous story focusing on Eadalyn's parents. People not wanting to go through with the Selection, stuck between a rock and a hard place and put there, in the middle of a Selection, anyway. Eadalyn is a bit easier to deal with as a main character than America because there isn't an inherent love triangle but I have to say I was slightly disappointed with how similar the narratives felt. However, that wasn't enough to stop me from reading and I'm glad that it didn't.  
Despite the similarities there were differences that appeared between the situation. With men serving as the Selected and a princess as the prize there is a change in the dynamic. Instead of cattiness there is outward distrust and physical challenges. We also see a young woman with the power, rather than a young man. The dynamic shift is entertaining to read as it allows for  the reader a chance to see what power, title and position can do to change how someone acts, especially when considering that Eadalyn is very much like her mother, America.
For some reason, for me anyway, I cared more about Eadalyn's Selection than I did Maxon's Selection. Maybe it was because it was obvious Maxon would choose America and for Eadalyn there were viable contenders all around. My favorite Suitors for Eadalyn are Kile (Marlee and Carter's son) Ean, and Henri. I also adore Erik but seeing as he is the translator for Henri I guess he doesn't really count as a Suitor. Still, he's probably my favorite male in this book aside from Kile.  
A shock in the book is the departure of her twin brother, Ahren, as he marries his soulmate Camille and runs off to her country to be with her, away from his family and their troubles. This action, while one of love, has a domino effect on the Schreave family and while Eadalyn is in shock and hurt by his departure it is America who suffers the most – she has  a heart attack. While I do not wish ill on America it was this alone that bumped the story up a bit higher for me than my original rating. The cliffhanger was not on romance but on family.
The way this book ends did indeed leave me wanting to know more and caring more about the Schreave family and Eadalyn's Selection than I originally expected to. Eadalyn's choices will weigh much more heavily on the country if she does not choose well and if her mother, America, does not recover. It is then that Eadalyn decides she wants to choose well for the country but choose well for her hear too. To find out how the final book The Crown (it seems the series is now complete at least) is received I will post a review shortly of that book.