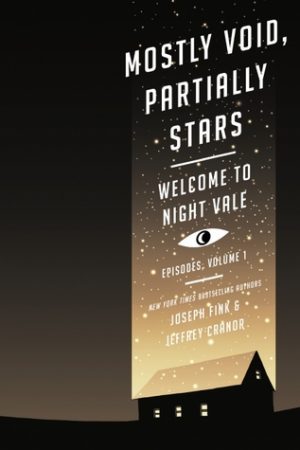 Mostly Void, Partially Stars
By:
Joseph Fink; Jeffery Cranor
Website:
http://www.welcometonightvale.com/
Release Date:
September 6, 2016
Publisher:
Harper Perennial
Series:
Welcome to Night Vale Episodes #1
Rating:
Mostly Void, Partially Stars, written by Joseph Fink and Jeffery Cranor, is the first volume in a series of a books featuring episodes from the podcast Welcome to Night Vale. Two volumes have been released thus far, the second being titled The Great Glowing Coils of the Universe. A must-have for fans of the podcast, this book contains the complete transcripts of the first 25 episodes of the Welcome to Night Vale along with one of the live shows, Apartments, a particularly excellent episode and one which I wish I'd known about earlier. Before each chapter is a small section by one of the creators or a member of the cast talking about that specific episode or the show in general, and some wonderful illustrations by Jessica Hayworth.