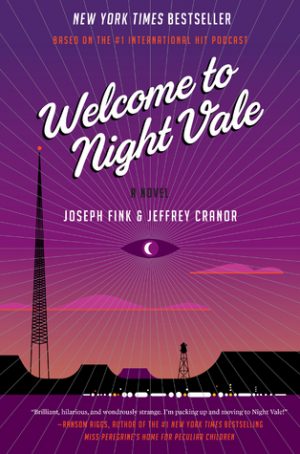 Welcome to Night Vale
By:
Joseph Fink; Jeffery Cranor
Website:
http://www.welcometonightvale.com/
Release Date:
Oct 20, 2015
Publisher:
Harper Perennial
Series:
Welcome to Night Vale
Award:
Goodreads Choice Award Nominee for Science Fiction (2015)
Rating:
Have you ever listened to the Welcome to Night Vale podcast? Heard of it? Well, this is Welcome to Night Vale the book, written by the podcast's creators Joseph Fink and Jeffery Cranor. Those who've never listened to the podcast, don't be afraid. The book doesn't require any previous knowledge of the world or plot of the podcast, though I do feel as though fans will get just a little more from this book than others as it does wrap up the Man in the Tan Jacket subplot.
Night Vale is an odd, dystopian town where mysterious, potentially deadly things happen on a regular basis and time doesn't work properly. Conventional rules of science don't always apply. The odd and frightening are normally treated so mundane as to be terrifying in and of itself. It is a place where every conspiracy theory is true, and portals to other universes aren't unheard of. The lore and rules of this town are all explained thoroughly but succinctly in the book, making it very accessible to those who are not familiar with the Night Vale universe.
The book is easy to jump into, even for those who have never delved into the world of Welcome to Night Vale. For those who do follow the podcast, some loose ends are tied up. The Man in the Tan Jacket is in town once more, and, of course, this being Night Vale, odd things are happening. Diane has noticed a co-worker missing, one that no one else in the office seems to remember and no record of who can be found. Jackie was handed a slip of paper which she, quite literally, cannot put down by a mysterious man wearing a tan jacket, a man she can't really remember. Events intertwine the two lives together as they search for answers.
Familiar faces make appearances throughout the novel. All were tastefully done and made sense in context, never being crammed in simply for the sake of a cameo. Cecil's radio show (essentially the podcast listeners are used to) punctuate the story every few chapters, delivering pertinent information as characters have the car radio on. Carlos the Scientist is consulted on the issues at hand when Jackie and Diane feel like they're running out of options.
I absolutely recommend the audiobook version of Welcome to Nigh Vale, especially for those who are already listeners of the podcast. Cecil Baldwin (the voice of Cecil Palmer) narrates the story and is, as always, quite perfect in the role. If you're looking for a standalone novel set in a very unique universe, check out this one. It is, by far, one of the best books I've read thus far this year.