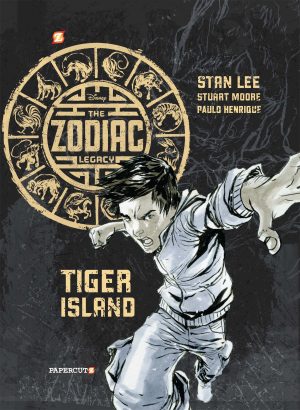 The Zodiac Legacy Vol 1
By:
Stuart Moore, Stan Lee, P. H. Marcondes
Release Date:
August 2, 2016
Publisher:
Papercutz
Series:
The Zodiac Legacy, Book #1. Based on The Zodiac Legacy novel series
Received From:
Publisher
(All reviews are our own, honest opinions.)
Rating:
The Zodiac Legacy #1 is a graphic novel by Stuart Moore, Stan Lee, and P. H. Marcondes based on a series of young adult novels of the same title. This is the first in a series of graphic novels involving characters with superpowers based on the Chinese zodiac.
Coming from the world of manga, it was a very nice change of pace to have all-color pages. The art style itself was nice, though I couldn't help but think that some of the cells were a bit boring. There was a lot of talking and little action in the beginning, and there was little happening stylization-wise on the page that otherwise engaged me or caught my eye.
The zodiac concept itself was interesting. I really like the concept, and would love to see how they continue to develop the character's abilities. As the only fighting scenes in this book were not against other people with zodiac abilities I don't think we've really gotten a chance to see the character's superpowers at their best.
Overall this graphic novel was good, and the series has a lot of promise. However, I feel like it let a major opportunity slip through its fingers. The entire backstory of how the characters received their powers is told in a flashback from the antagonist's point of view. Alright, nothing we haven't seen before, and I can understand the thinking behind this. At least some people who will read the graphic novel will have already finished the novels, so why bore them by repeating information which (I assume, as I haven't read the novels) they have already seen?
But by not showing us how our main characters met and received their powers they've done themselves a great disservice. I didn't feel like I had any real understanding or connection to the characters other than Steven, who followed the general shonen (an anime/manga genre this graphic novel falls rather seamlessly into) main character archetype. Worse, an ending which would otherwise have me itching for the next title in the series had absolutely no impact on me. This felt like the second or third book in a series, not the first. There was more information missing than provided, none of which felt like the usual questions later answered by general plot progression.
Will I read the next volume when it comes out? Probably. And I will most likely be keeping my eye out for novel versions of Zodiac Legacy, which, I hope, will expand on the characters and backstory not provided in the graphic novel.
If you enjoy graphic novels, give The Zodiac Legacy #1 one a try. It has an interesting concept and lots of yet untapped potential.
Read If:
you enjoy graphic novels, you like superhero stories

Don't Read If:
you don't like being thrown into the middle of a narrative