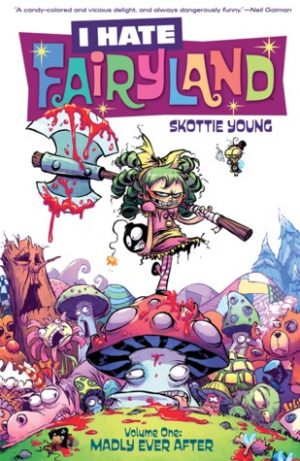 I Hate Fairyland Vol. 1: Madly Ever After
By:
Skottie Young
Website:
http://skottieyoung.com/
Release Date:
April 20, 2016
Publisher:
Image Comics
Series:
I Hate Fairyland #1
Rating:
One of the parts that I love so much about this series as a whole is that, yeah, the idea of a world that is perfect and charming in every way would become very frustrating and annoying very There is nothing I love more than completely over the top humor or stories that point out flaws and misconceptions in things usually considered 'good', 'normal', or 'benign'. I Hate Fairyland Vol 1: Madly Ever After by Skottie Young does both of these things with near perfection.