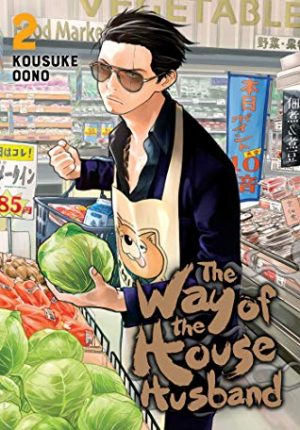 The Way of the Househusband, Vol. 2
By:
Kousuke Oono
Release Date:
January 1, 2020
Publisher:
Viz Media LLC
Series:
The Way of the Househusband #2
Received From:
Publisher
(All reviews are our own, honest opinions.)
Rating:
The second volume of Kousuke Oono's The Way of the Househusband is a fantastic follow-up to last year's English release of volume 1. This humorous, contemporary manga was originally published in Japan beginning in 2018. The series focuses on Tatsu, the Immortal Dragon, a legendary, well-known Yakuza who's turned over a new leaf. Reformed and married to a working woman, Tatsu is now a househusband, attacking everyday chores and errands with all of the fervor and gusto befitting a former Yakuza.
Each chapter follows a different day in Tatsu's life, and one in which he tackles some kind of task us readers haven't seen before.
Though much of the focus remains on Tatsu, other characters also feature in the story. Most notably, perhaps, are other former or current Yakuza members whom Tatsu seems to stumble upon. These characters generally fall into one of two groups. The first are those who don't understand Tatsu's current life, don't think he's serious about being a househusband, or else challenge him in some way. The second are characters such as one of Tatsu's former Yakuza members. He, too, is trying his best to muddle through a regular, everyday life, but doesn't quite know how to properly take care of himself.
One of the more humorous aspects of the story is Tatsu's obliviousness to how he is perceived by most people. Despite a very severe change in lifestyle, he still very much comes across as a dangerous individual. Humorous situations arise from this, both from interactions with neighbors and store clerks as well as the more thuggish sort Tatsu seems prone to stumbling across.
This second volume feels a bit more polished than the last. The storytelling is a bit more refined here. There is more of a through line from one chapter to another, giving off a better sense of moving forward in time and watching Tatsu's life rather than assorted funny aspects of Tatsu's everyday tasks.
An entertaining, humorous read, The Way of the Househusband, Vol. 2 by Kousuke Oono is a fantastic addition to the series. While the story wouldn't be at all difficult to follow if starting from volume 2, I would suggest reading volume 1 beforehand simply because it is very much worth reading. I would absolutely suggest picking up this series, especially if you're looking for a bit of a more lighthearted read considering current events.