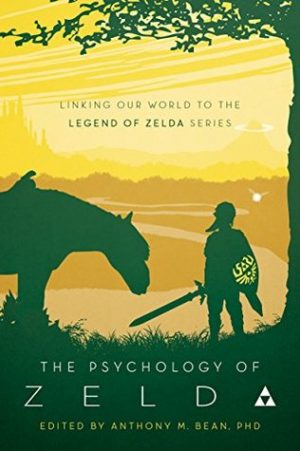 The Psychology of Zelda
By:
Anthony M. Bean (editor)
Release Date:
February 19, 2019
Publisher:
Smart Pop
Received From:
Publisher
(All reviews are our own, honest opinions.)
Rating:
The Psychology of Zelda, compiled by editor Anthony M. Bean, is a nonfiction novel about the beloved Legend of Zelda series and how psychology is utilized throughout the franchise. Each chapter is a separate article by a different author, many of whom are currently researching different aspects of video games.
Articles delve into the psychology and psyches of both the characters found in the franchise and the players. Various games and characters from the franchises thirty year history are explored.
Certain articles explore very similar aspects, but from different angles and through very different lenses. However, there are a wide variety topics explored. Each article has a full bibliography section for those interested in exploring further on the topic. Authors and their work are also outlined after the conclusion of each article.
While fans of Legend of Zelda will absolutely get more out of this book than those who aren't familiar with the franchise, universal topics are explored here. Not only does this provide an in-depth look at the Legend of Zelda, but it looks at how people relate to characters and video games, how music is used and for what reasons, and much more. What works and why is explored in-depth, but the book is also much more than that.
At heart, this is also a very good overview of a variety of both basic and more complex psychology concepts explained in a very relatable way. While many a text book has been written on these subjects, they often tend to be dry and can sometimes be difficult to initially relate to real world concepts. This approaches common topics in a new, interesting and very relatable manner.
The Psychology of Zelda, edited by Anthony M. Bean, is a nonfiction book fans of the Legend of Zelda will definitely want to peruse. Fans of fantasy and science fiction in general would also find many of the articles interesting.