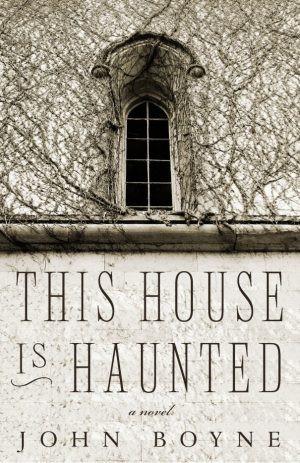 This House is Haunted
By:
John Boyne
Release Date:
April 25, 2013
Publisher:
Doubleday
Rating:
This House is Haunted by John Boyne is a wonderful, slow read filled with all of the wonderful bits of traditional gothic horror. Set in 1867, the story is told by Eliza Caine, a young woman who works as a teacher for young girls. When tradgedy besets her and her father, Eliza takes up a new position as a governess to two children living in a country manor. The children are odd, their parents are missing, something is wrong with the house, and none of the townsfolk will talk about any of it.
I greatly enjoyed listening this novel as an audiobook. Alison Larkin, the voice actress, did a wonderful job, truly bringing the setting to life and portraying the story from a first person viewpoint.
This book has an excellent example of a wonderful book with a title which may mislead potential readers. The title This House is Haunted brings to mind something a bit more contemporary and paranormal as opposed to the very traditional gothic horror this novel aspires to be.
And, for the most part, it greatly succeeds in its goal. The prose is a bit flowery and clearly identifiable as an older style, yet remains very readable and easily accessible.
The story takes its time in building its main character, Eliza, and setting before getting to the heart of the mystery. The young children Isabella and Eustace are inexplicably strange, and there seems to be no adults at Gaudlin Hall – no parents, no full time help, no one. Just her, two young children, and a dark, frightening house.
Many trappings of traditional gothic horror are present in various ways and were a delight to read. It is a wonderfully atmospheric novel, and one best suited to those who love gothic novels and mysteries set in quiet English villages.
Slowly but surely, the past is unraveled. The secrets of Gaudlin Hall are discovered one by one, despite how deeply some try to bury or dismiss them. All major and minor plots were wrapped up very well – some in rather unexpectedly heart-pounding moments, others some painfully bittersweet.
This House is Haunted by John Boyne was a wonderful gothic novel, one I am quite glad I decided to read in the lead-up to Halloween. If ghosts and gothic horror is something you're looking forward to this autumn, give this novel a try.