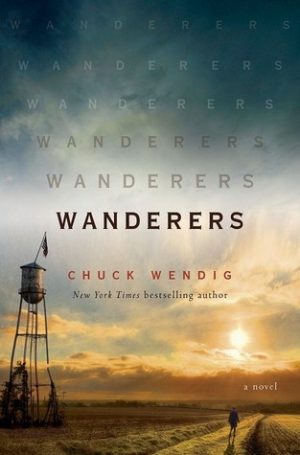 Wanderers
By:
Chuck Wendig
Release Date:
July 9, 2019
Publisher:
Del Rey
Rating:
A tale of humanity and utter destruction, Wanderers by Chuck Wendig is a fantastic epic sure to please fans of multiple genres. What begins as a mysterious illness effecting a few hundred people soon spirals into much more as the entire country takes notice. This seven hundred page epic takes readers from one coast to the other on a journey that takes you right to the end of the world.
The story begins one morning when a teenaged girl simply walks out of the house in a seemingly aimless direction and is completely unresponsive. Soon others join, and suddenly hundreds of people are marching slowly across the country. All are unresponsive and never seem to need to eat, drink, or sleep. The CDC gets involved, and, not long after, these sleepwalkers are the focus of the entire country.
While the main character is arguably the family of the first victim of this unknown illness, dozens of characters flit in and out of the pages. Their lives run parallel, meet, and intertwine, sometimes in unforeseen ways.
Even detestable characters behave with an air of incredible humanity. Priorities and loyalties shift; what's important comes sharply into focus. So many characters and shifting viewpoints can easily become overwhelming or blur together. Not so here. It isn't quirks or interesting patterns of speech which make these myriad of characters memorable. It is their incredible humanity.
Plot may drive many parts of this novel, but at heart it is a story of humanity. How do we cope with the unknown? How strong are the bonds of family? Is there a point when it's healthier to distance yourself or leave versus staying? When things grow dark – as dark as they can get – where do you draw the line? Do you take a stand or go quietly with a whimper in the dark?
The pacing of the story is quick – much quicker than the page count belies. A long amount of time is covered in these pages. We see a strange illness overtake the United States, how it evolves, and its long term consequences. Yet, despite the length and sheer amount of time covered, the book is amazingly fast paced.
Wanderers by Chuck Wendig is terrifyingly believable. The way characters react to what's happening, the way in which major plot elements develop. Everything is so utterly real. The horror element is strong, and not only for that aspect. As beautifully strength, devotion, and love of people is depicted, so is the fear, hatred, and self-centeredness of people.