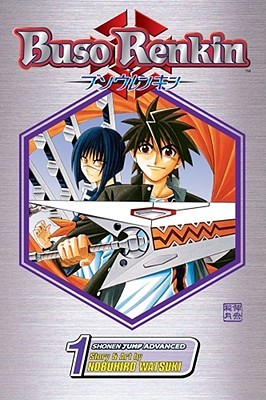 Buso Renkin, Vol. 1
By:
Watsuki Nobuhiro
Release Date:
August 1, 2006 (English); 2004 (Original Japanese)
Publisher:
VIZ Media: Shonen Jump
Series:
Buso Renkin #1
Rating:
If there is one genre of manga and anime I love above all else it's shonen. Recently, I began Buso Renkin, Vol. 1 by Watsuki Nobuhiro, a series I know through the anime but have never read.
The story begins with Kazuki Mutou being mortally wounded when saving Tokiko, a teenage girl he's never seen before, from a monster. He's granted a new life by Tokiko with the power of an alchemically made object. Now, Kazuki finds himself in Tokiko's world – fighting homunculi and able to use a Buso Renkin, a great alchemical weapon that's uniquely his own.
The anime follows the manga pretty closely, something that can't always be said about adaptations. Volume 1 portrays what happens in the first several episodes more or less exactly. I can't say yet if this will continue through the entire series, but, thus far, the anime has proved to be a rather exact adaptation.
What makes this manga a bit hard to get into isn't the plot, necessarily, but the terminology used. Alchemy and homunculi don't follow traditional, conventional paths. This can lead to some initial confusion. Everything is fully explained, though these sections can border on being info-dumpy. However, everything is explained.
Despite certain sections having a bit of an info-dump, the plot moves fast. A lot is gotten through in only a few chapters. There isn't fighting all the time. Kazuki is shown in quieter moments with his friends in the dormitories or in school. However, the plot gets moving along right away – a very good thing for those who don't like slower first volumes.
The art is clearly Watsuki's. Character designs are varied, weapons are very unique and quite interesting. Tokiko can sometimes look a little too much like Kenshin from Rurouni Kenshin, something the mangaka comically mentions in a bit of a self-depreciating author's note. However, some of the fighting scenes were not quite as clear as they could have been. What exactly was happening was muddled in some places, with the action being a bit unclear.
I will definitely be continuing with this series. While I enjoy the story, I'm glad I watched the anime first, as I feel I would have gotten just a little bit lost in certain sections otherwise. Still, if you enjoy shonen manga, Buso Renkin Vol. 1 by Watsuki Nobuhiro may be one to read if you have time and subscribe to Shonen Jump.