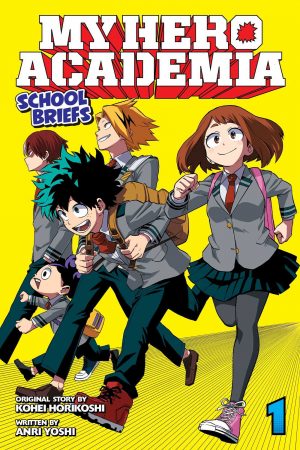 My Hero Academia: School Brief, Vol. 1: Parents' Day
By:
Anri Yoshi; Kohei Horikoshi (idea)
Illustrator:
Kohei Horikoshi
Translator:
Caleb Cook
Release Date:
April 2, 2019
Publisher:
VIZ Media LLC
Series:
My Hero Academi: School Briefs
Rating:
My Hero Academia is a superhero manga that has taken the world by storm. Since the manga's 2014 debut in Shonen Jump, it has acquired two spinoffs – My Hero Academia Vigilantes, following a group of vigilante heroes, and My Hero Academia Smash!!, a comedic four panel rendition of moments not shown in the manga. Now, a light novel is also available starting with My Hero Academia: School Briefs, Vol. 1: Parents' Day. Written by Anri Yoshi based on Kohei Horikoshi's series and ideas, this story takes place after the student's internships as they prepare for Parent's Day.
This light novel follows various students within Class 1-A as well as their teachers over the course of a weekend with Parent's Day – the day student's parents visit their school – quickly approaching. Each chapter follows a different character or set of characters in their own shorter tale over the course of these few days.
The happenings within School Briefs are not found anywhere else. These are moments not shows in the manga, the anime, or any of the other spinoffs. These are unique tales that fit in quite well with the already established cannon. Many of the stories happen outside of school. Ida and several others go to a nearby theme park, several students go shopping, and the teacher's talk of Parents Day turns into wild theory crafting.
The language used is simplistic, but that is not a detraction from School Briefs. Instead, it is a strength. This is, after all, a shonen story, one targeted to boys in the roughly middle school aged range despite worldwide popularity among those of all ages and genders. Having the stories and language remain so accessible to preteens, to have them catered to instead of forgotten, is a wonderful thing.
The short stories culminate with what happens on Parent's Day itself. While the majority of the light novel involved more lighthearted banter and humorous situations, the ending is more of the action-packed adventure readers most associate with the series. Despite being comprised of many shorter stories, the majority of which could stand just fine on their own, the tale is quite linear with a satisfying conclusion. My Hero Academia: School Briefs, Vol. 1: Parents' Day by Anri Yoshi fits perfectly into the established manga and provides additional great material for fans to devour.