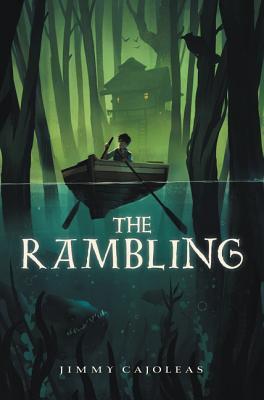 The Rambling
By:
Jimmy Cajoleas
Release Date:
March 26, 2019
Publisher:
HarperCollins
Rating:
From the author of Goldeline comes another middle grade fantasy that is sure to sweep readers away. The Rambling is another standalone novel by Jimmy Cajoleas.
Buddy Pennington was born in a small town set on a river that lead to a dark swamp filled with magic. Now, he lives in a quiet, boring town far away from his beloved river and his father. Convinced his luck will be better if lives with his father, Buddy sets off for the river and small house he remembers. But there are reasons Buddy and his mother moved away, reasons Buddy isn't privy too. No sooner are Buddy and his father reunited than old enemies come knocking. With only his father's magical Parsnit cards, Buddy must go on a rescue mission, one where he learns about friendship, family, and magic.
Buddy himself narrates this tale, a very befitting choice which becomes clearer the more the reader learns about the magical card game called Parsnit. The prose is wonderful, lyrical, and doesn't quiet feel as if an eleven-year-old narrates it. Buddy, of course, makes the sorts of mistakes that any eleven year old would be bound to make, but our narrator speaks with the voice of a true storyteller.
The quest our young hero sets out on is one we've seen before. Alone and without much information, Buddy sets off after the two men who have kidnapped his father. The farther he follows the trail, the deeper into the swamp he goes. Here, the world is ruled by tradition and fading magic. Things lurk in the swamp that strike fear into people's hearts, and above it all sits master criminal Boss Authority, gathering up power everywhere he goes. He's not one to cross, but it seems that's exactly what Buddy's father has done.
The world of The Rambling is one of mystery and magic. The story is, by and large, set on a swampy, forested river. Small towns dot the river, inhabited by witches, criminals, and shapeshifters. The atmosphere of magic and the unknown is almost as palpable as the heat and sticky humidity that plagues Buddy's travels.
Yet, the real star of this show is the game parsnit. This is a card game, but not one played with a typical deck of cards. These cards have no numbers, and the pictures that adorn them change slightly depending on the witch who created them and the player who owns them. Parsnit is a game of stories. Players tell dueling tales depending on what cards come up and in what order. Whoever tells the best story is deemed the winner.
The Rambling by Jimmy Cajoleas is a wonderful middle grade novel of adventure and magic. I devoured this book in a single sitting, just as I did with Cajoleas's other novel. I cannot wait to see what else this author may have in store for us in the future.