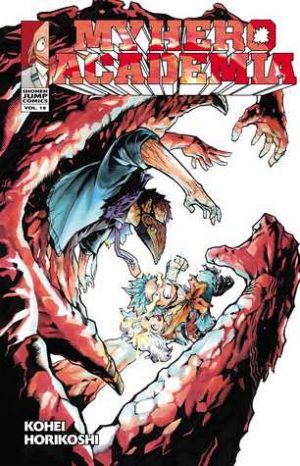 My Hero Academia, Vol. 18
By:
Kohei Horikoshi
Illustrator:
Kohei Horikoshi
Translator:
Caleb Cook
Release Date:
April 2, 2019
Publisher:
VIZ Media, LLC
Series:
My Hero Academia
Received From:
Publisher
(All reviews are our own, honest opinions.)
Rating:
The seventeenth volume in this widely beloved shonen series draws this last arc to a close and is certain to hit an emotional note with readers. My Hero Academia, Vol. 18 by Kohei Horikoshi and translated from the Japanese by Caleb Cook is another fantastic installment in the series.
In this volume, we see the end of the Overhaul arc, including its aftermath before taking a look at how some of the other students are fairing in their day to day lives at U.A.
Emotions run high in the first half of this volume. The story picks up right where it left off. Deku and Overhaul finally face off in Eri's rescue. It is a battle with emotional highs and certainly satisfies those shonen readers who always look forward to a great battle. But such an intense mission isn't without its consequences.
Several ensuing chapters take place during the mission's aftermath. This is the first real hero mission Deku has taken part in, and it's the first time we see the sort of things heroes need to deal with afterwards. There are casualties. Characters are effected in numerous ways. And this is something Deku needs to deal with.
A much needed reprieve is given in the second half of this volume. After quite a number of chapters, we get to see what's happening back at U.A. We finally get to see what Torodoki and Bakugo have been doing these past few months at their remedial lessons for their hero licenses. This is a very entertaining segment, and one that leaves the manga off on a high note.
If you haven't already gotten your hands on a copy of My Hero Academia, Vol. 17 by Kohei Horikoshi, I highly recommend doing so. Now is the time to binge read the next few available volumes before Season 4 of the anime rolls around this Fall Season.