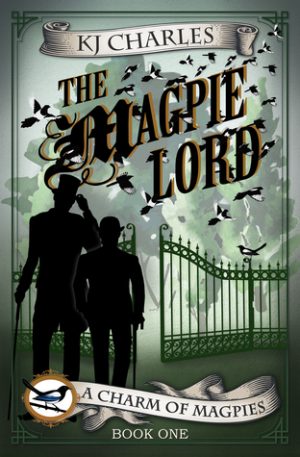 The Magpie Lord
By:
K.J. Charles
Release Date:
September 3, 2013
Publisher:
Samhain
Series:
A Charm of Magpies #1
Rating:
The Magpie Lord by K.J. Charles is the first book in the A Charm of Magpie series. This is a Victorian Gothic Horror novel filled with magic, mystery, and love. Lucien Vaudrey returns from his exile in China to his family estates in England as the new Lord after the deaths of his father and brother. Along with the title and land, Lucien gains the enemies of his father and brother. Someone is trying to kill him, and Stephen Day, local magician, is called in for assistance. Stephen soon finds himself falling for the fascinating earl, but there's no time for that. Not with a foreboding sense of evil in the old mansion, a ghost, and unknown enemies trying to kill them – both of them.
While a novel, this definitely a short one. At around 200 pages, The Magpie Lord is a fast paced story focused on a small number of characters. Lucien Vaudrey is a new earl, having inherited the title from his recently deceased brother. After spending twenty years in exile for 'gross indecency', Lucien has finally returned to England, leaving behind a life as a merchant and stepping directly into danger and unknown enemies. Stephen Day is a justicar, one who investigates magic related crimes and brings those who've misused magic to task. At first, he doesn't want to like Lucien. The Vaudrey's were hated for good reason, and Stephen has no reason to think that Lucien is any better than his brother or father.
Several secondary characters are introduced as well. Most notably, there is Merrick, Lucien's butler. We get to know some of the staff that work at Piper, the old country estate, as well as those who live in the surrounding countryside.
The story begins with a question – something supernatural is happening, and it's trying to drive Lucien to suicide. Suddenly, there are questions as to the true nature of his brother and father's deaths. While no one is sad to see them gone – or surprised they had enemies who wanted them dead – Stephen isn't sure why anyone would try to kill Lucien. He'd been out of the country for twenty years, and Lucien doesn't bear any of the vices of his other relatives.
What follows is an atmospheric, magical mystery. The old, unlived in mansion is somewhat foreboding. The rooms remain empty, the magpies associated with the family cover the grounds, and a ghost has been terrifying the staff. There is something ominous about the mansion, of fallen grandeur. And of magic that's almost gone and long untapped. What begins as a clear cut case of attempted murder spirals into a mystery involving magic, the late Lord Crane, and one of the Vaundrey ancestors.
The magic system used is easy to follow. There are rules and laws, but not so many as to be difficult to keep track of. It is a rather traditional, old sort of magic that captures the feel of the English countryside and ancient estates.
There is an immediate attraction between Lucien and Stephen. Despite Lucien's best attempts, however, the romance doesn't quite kick off until later in the novel. Magic and mortally dangerous situations arise much too often for Stephen's comfort, often interrupting things to somewhat humorous affect. Things do get explicit towards the end of the novel, so be aware if you prefer fade to black scenes.
The Magpie Lord by K. J. Charles was a fantastically fun, very atmospheric read. It's filled with magic, danger, the Victorian gothic, and love. I would absolutely recommend giving this a read.