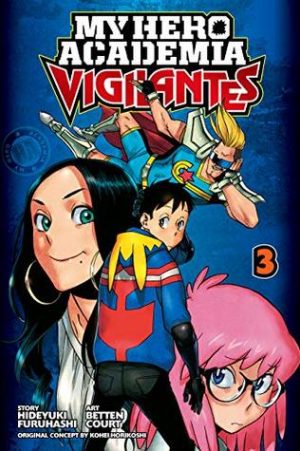 My Hero Academia: Vigilantes, Vol. 3
By:
Hideyuki Furuhashi
Illustrator:
Betten Court
Translator:
Caleb Cook
Release Date:
January 1, 2019
Publisher:
VIZ Media: Shonen Jump
Series:
My Hero Academia: Vigilantes #3
Received From:
Publisher
(All reviews are our own, honest opinions.)
Rating:
Out of the many spin off series that exist in the world of manga My Hero Academia: Vigilantes is probably my favorite. It offers a very different look at a society where everyone has quirks – superpowers. Instead of following teenagers trying to be young heroes we follow a regular college student named Koichi who moonlights as a vigilante.
My Hero Academia: Vigilantes, Vol. 3 by Hideyuki Furuhashi and Betten Court is the latest physical volume released in the US. This volume starts off a little slower, but very realistically. Koichi isn't doing very well in one of his college lecture classes, partially due to his vigilantism affecting sleep and study schedules. Makoto, an upperclassman and Tsukauchi's sister, volunteers to tutor Koichi so long as he helps her find the elusive vigilantes she's heard about. A thesis won't write itself, you know, and Koichi has little choice but to help her. This opening section gives us a lot of information about the world My Hero Academia is set in. We are treated to a history of vigilantes and heroes, and how the former gave rise to the latter. What could prove info-dumpy is tempered by the push and pull between the two characters. Koichi has to walk a fine line here. This woman knows a lot about vigilantes and is searching for him and his friends.
Another new character we meet is the hero Captain Celebrity, an American Hero who's come to Japan for work in order to escape the multiple lawsuits and scandals. Multiple characters have mentioned in My Hero Academia that the general public is starting to lose some faith in heroes, especially after All Might's retirement. Looking at Captain Celebrity, it's easy to see why. He's a fantastic character – in your face, obsessed with his image, not very interested in hero-ing without a camera and police request. Captain Celebrity is easy to hate, and very different than many of the professional heroes we've met so far.
The last section of this volume was probably my favorite, though. We meet Koichi's mother, a strict woman who is a bit overbearing and overprotective of her son. Of course, this is when villains strike. What we have is a really exciting section featuring our vigilante friends, a very unique cat villain, and Ingenium who comes to save the day. Ingenium and Koichi must work together in a very dangerous situation. It was fun, exciting, and a great section.
At the end of the volume are two one shots. These two chapters feature the heroes as opposed to the vigilantes and take place during the same time as Vigilantes and their search for the villain distributing Trigger. I really enjoyed these two chapters. We don't always get to see some of these heroes dealing with behind the scenes duties, and it was interesting to see.
The art in here is fantastic, as always. Action scenes are well choreographed and easy to follow. There are also some fun nods tucked away in here, such as All Might tearing his suit open to reveal his hero costume underneath Superman style. This is not the first time I've read these chapters as I keep up with the simul-pub releases on Viz's website, but every time I read this series I find something new, fun, and different tucked away in various panels. I really love Betten Court's artwork.
Needless to say, My Hero Academia: Vigilantes, Vol. 3 is another fantastic volume in the series. If you haven't read this series yet now is the time to start. New chapters are released for free by VIZ Media. If you're interested in what I thought about the rest of the series you can see my reviews for My Hero Academia: Vigilantes, Vol. 1 and My Hero Academia: Vigilantes, Vol. 2.