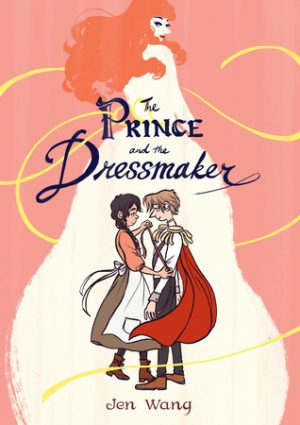 The Prince and the Dressmaker
By:
Jen Wang
Illustrator:
Jen Wang
Release Date:
February 13, 2018
Publisher:
First Second
Rating:
The Prince and the Dressmaker by Jen Wang is an utterly magnificent story of acceptance, following your heart, and chasing your dreams. It is the story of a young prince, Sebastian, and a young woman, Frances, who wants to become a fashion designer and dressmaker. After seeing a dress Frances made, Sebastian hires her as his seamstress. But Sebastian's secret and Frances' dreams seem to go hand in hand.
The story is told largely from Frances' perspective. It is her we follow most closely on her journey, though the perspective does shift to Sebastian's point of view.
Throughout the graphic novel we see people change. Frances' confidence and Sebastian's melancholy and fear trade places with one another as the story continues. Each must confront things they fear. Yet, despite both being hurt – sometimes by the world, sometimes by each other – this is ultimately a story of acceptance and change.
This is not the usual setting in which we see kings, queens, and princes. Not me, at least, being so used to the halls of high fantasy I've trudged since childhood. That is played into here. The clash of old, outdated ways is in extremely stark contrast to the busy streets of Paris filled with cars and the new department stores being built nearby. On one hand, the king and queen trying to marry off their son to continue the royal line. On the other, department stores are being built, fashion designers are in high demand, and the kings and queens of old are largely figureheads, unneeded.
The familiar tale of duty versus true desires is played out here, and while that may seem like a familiar story, this is not. All of the hallmarks of traditional storytelling are here. Standard storytelling devices are used to their absolute best. It is a story filled with warmth, love, and hope. It's a story of beauty and acceptance. And it is so worth reading.
The art in this soft. The style is cartoonish in some ways. The lines are thick and bold. The color palate shifts quite often. Scenes at night are rendered in darker, smoky colors when outdoors and warm but darker browns when indoors. The dresses Frances designs jump off the page – bright, bold, and beautiful. While there is plenty of dialogue, panels are left to speak for themselves. Expressive faces and well-choreographed panels are all that are needed in many places.
The Prince and the Dressmaker by Jen Wang was a graphic novel that has been on my to-read pile for quite some time, and I am very happy I finally had a chance to pick it up. I am very excited to see more of Wang's work, and I would highly recommend putting this on your own to-read list.