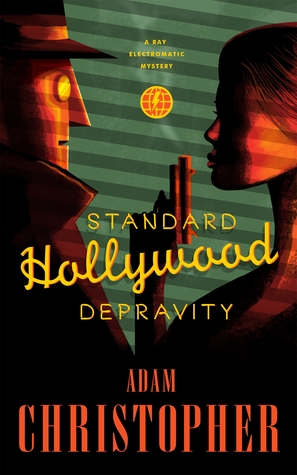 Standard Hollywood Depravity
By:
Adam Christopher
Release Date:
March 7, 2017
Publisher:
Tor.com
Series:
Ray Electromatic #1.5
Rating:
I can finally say I've finished the Ray Electromatic series. Standard Hollywood Depravity by Adam Christopher is a novella set between the first and second books in the series. It's a short, fun mystery that can be easily read as a standalone story if you haven't read the first novel in the series Made to Kill.
Our robotic protagonist, Ray Electromatic, has a new job. The detective turned assassin is targeting Honey, a woman who dances at a local club this time, but the place doesn't feel quite right when he gets there. More than a few mafia and hired guns are hanging around, and things quickly grow complicated.
This is another fast paced story featuring Ray straddling the line between assassin and the detective he used to be. Relevant, basic plot elements are all quickly and thoroughly explained, making the novella extremely accessible for readers who may be new to the series. For being a robot, Ray has a lot of personality. He truly feels like a detective who stepped out right out of an old black and white film. This shines through especially well in certain sections of this novella.
The stakes may not be quite as high in this volume, but the same wonderful sci-fi noir mystery feel permeates the story. A simple hit grows more and more complicated as the story continues. Mafia and hired guns already have their own plans for the evening. Ray, of course, gets swept up in this, having to make some tough decisions on the way.
I don't want to get too into the plot, though. Part of the thrill of reading a mystery is the, well, mystery. On top of that, Standard Hollywood Depravity is a novella, so it isn't very long to begin with. What I will say was that it was a lot of fun, and another good installment in one of my favorite series.
If you like noir mysteries, robots, and alternate history, I'd highly suggest giving Standard Hollywood Depravity by Adam Christopher a try. If you're interested, I've also posted reviews of the three other books in the series: Made to Kill, Killing is My Business, and I Only Killed Him Once.