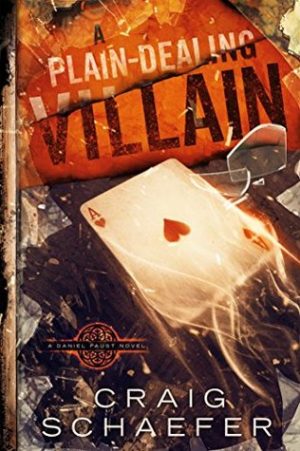 A Plain-Dealing Villain (Daniel Faust #4)
By:
Craig Schaefer
Website:
http://craig-schaefer-v2.squarespace.com/
Release Date:
January 20th, 2015
Publisher:
Demimonde Books
Series:
Daniel Faust Series
Rating:
  I know I'm terrible about posting reviews but as I get caught up in series books I always struggle about giving a proper review while avoiding spoilers. However, there is nothing terrible about book four in the Daniel Faust series and now, even months after reading them, I'm still obsessed. To the point that I went back through my copy to find favorite quotes and ended up re-reading the entire book anyway. 
Book four in a series is a lot of ground to cover both before this book and after this book. Again, without spoilers for this book and any that preceded it. And given that this series is currently sitting at a total of eight books and one novella with more in the works according the Schaefer we have reached that inevitable point in the series where a book serves to resolve some items, set up much more and fill in the gaps that need filling so the action, plot and characters can move forward.
For the record, this book isn't entirely filler. In fact there are a lot of important moments in this book that felt oh so right as far as timing and the actions taken by the characters. However, looking at the series with 20/20 some people might call this book filler. Me? I call it amazing. 
Faust goes to Chicago (to get off of Harmony Black's radar) and to pull of a high-stake heist. He meets mob people, a necromancer, and many other…unsavory characters. The struggle is, aside from the challenge of such a heist, is that it is also a test of sort for the courts of hell to see how valuable to them he actually may be.  
Also, Chicago mob members have their eyes on Daniel's hometown of Las Vegas. And no one is happy about that.
There are certain quotes throughout this book that I just adore beyond all comprehension and a few of them are here to amuse and entrap you without giving too many spoilers.   
"The original games were gladiatorial fights to the death. We had to revise that after a few years because, well, people stopped signing up."
"I wondered, for a brief instant, what a necromancer like Damien Ecko could do with the skeleton of a T. rex. I shrugged the idea off. Nobody's that good."
"It's never good to owe money to a guy with a cellar full of military hardware. Especially not when he rides with an outlaw biker gang."
Suffice to say. You should read the first three books. And this one. And any books that follow.  Who doesn't love a damaged, perhaps morally off-kilter  hero?