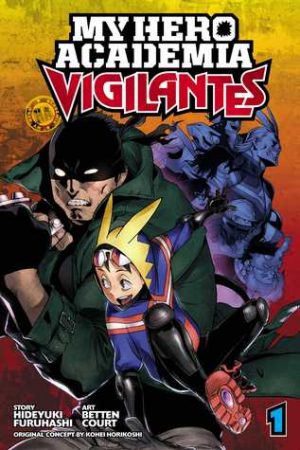 My Hero Academia: Vigilantes Vol 1
By:
Hideyuki Furuhashi (written by); Kohei Horikoshii
Illustrator:
Betten Court (Illustrator); (Letterer)
Translator:
Caleb Cook
Release Date:
July 3, 2018
Publisher:
VIZ Media LLC
Series:
My Hero Academia: Vigilantes
Received From:
Publisher
(All reviews are our own, honest opinions.)
Rating:
Sometimes a spin off series just doesn't entertain me the way the original did, so I was just a little hesitant to start My Hero Academia: Vigilantes. All my worries were over nothing, though, as this is one of the absolute best spin off series I've encountered. My Hero Academia: Vigilantes, written by Hideyuki Furuhashi and illustrated by Betten Court is a fantastic series that all fans of My Hero Academia and superhero stories at large should read.
My Hero Academia: Vigilantes has all of the heart and soul of My Hero Academia. Yet it stands on its own two feet, a very solid series in its own right. We are introduced to a whole new cast of characters who are completely unaffiliated with U.A. or the professional hero business. This means readers don't have to commit to reading or watching My Hero Academia before picking up Vigilantes. That said, certain characters do make appearances. For example, Aizawa stumbles across our vigilante friends along with a villain on his day off. But, overall, lots of prior knowledge about the My Hero Academia universe isn't needed to understand or fully enjoy Vigilantes.
Koichi, our main character, is a college student, not quite an adult, perhaps, but old enough to know and have come to terms with the fact that he will never be a hero. His quirk isn't suited for the job, he's too old to enroll in a hero program somewhere, and he's adverse to physical confrontation. Koichi's settled, yet the potential within him is clear to see. He's clever enough to devise a plan on the fly, but unable to physically follow through with it. Koichi is very normal, very relatable. I loved seeing him change throughout the volume. This normalcy leads to his first, more minor take on vigilantism, or, more appropriately, good Samaritan work. Koichi, or Nice Guy, goes out to do good for the community such as picking up trash, giving directions (to the lost Inko Midoriya), and helping drunk businessmen make it home.
What I love the most about Koichi's Nice Guy persona is that everyone seems to recognize him, even after he changes his name and persona to The Crawler, a vigilante more inclined to defeating villains than picking up trash. Regular citizens he stumbles across, delinquents, and villains alike recognize Koichi as Nice Guy, even going so far as to compliment him on doing so much good for the community. He might not be a traditional hero, but Koichi is important within his neighborhood in his own right. He helps people in a very mundane way, but a memorable one, making the community cleaner and safer in his own everyday way.
My Hero Academia: Vigilantes carries all of the major themes of the series proper while portraying them in quite different ways. Koichi's statement that "Life isn't fair. That's the truth," echoes the "Not all men are created equal," of Deku. The familiar discussion on what really makes a hero are also discussed. All Might as an influence on what heroism is supposed to be and an inspiration others is also clearly seen, even if not as directly as in My Hero Academia. Unlike his fellow vigilantes, Koichi doesn't have a flashy costume or a very flashy name, but what he does have is an All Might hoodie – one that is very reminiscent of Deku's hero costume when seen in profile.
An aspect I really enjoyed about this volume was the generation disparity between Koichi and Pop-Step versus Knuckleduster. Knuckleduster has no issue shaking down every suspicious looking individual who comes across his path, while Pop-Step's immediate go-to is a quick Google search on her phone. These small moments show some great characterization, but also how things have changed from one generation to another.
The art in this manga is, just like the original series, very careful. The artist, Betten Court, is very deliberate in his art. The visuals of All Might soaring across the city skies, Koichi looking up at him. The panel depicting several heroes as Koichi talking about heroism and wanting to be a hero, those are careful, important. These aren't all only top ten heroes. Many are lesser known, such as Manual, the hero Iida interned with in My Hero Academia, and 13, a hero whose specialty is rescue operations as opposed to the regular beat-up-the-villains heroism. This panel shows a lot about Koichi through the heroes he admires, all while using the manga format to its best ability – something I greatly admire in both Vigilantes and My Hero Academia.
While My Hero Academia has always had references to American comics, they are much more blatant here. A few X-Men quirks wheedle their way into the story, though the similarities between the characters end there. Still, it's fun to see such obvious homages to well-known characters.
I really enjoyed My Hero Academia: Vigilantes by Hideyuki Furuhashi and Betten Court. This is a series I will definitely be continuing with. If you are a fan of My Hero Academia or shonen manga in general I would absolutely recommend picking up a copy.