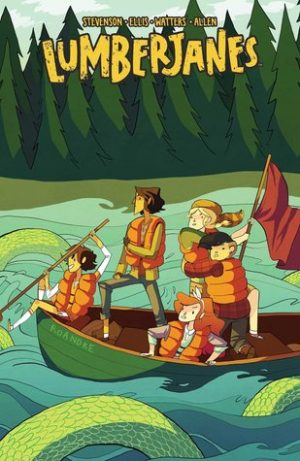 Lumberjanes Vol 3: A Terrible Plan
By:
Noelle Stevenson; Shannon Watters; Faith Erin Hicks
Illustrator:
Carolyn Nowak (Illustrator); Maarta Laiho (Colorist); Aubrey Aiese (Letterer); Brittney Williams (Illustrator); Aimee Fleck (Illustrator); Faith Erin Hicks (Illustrator); Rebecca Tobin (Illustrator); Felicia Choo (Illustrator); T. Zysk (Illustrator)
Release Date:
April 5, 2016
Publisher:
BOOM! Box
Series:
Lumberjanes
Award:
Goodreads Choice Award Nominee for Graphic Novels & Comics (2016)
Rating:
Lumberjanes never fails to put a smile on my face, and my local library never fails to have another volume to borrow. Lumberjanes Vol. 3 follows our favorite cabin of girls at Lumberjanes camp through several short stories. Ghost stories are told. Riley is her usual fun, ridiculous self. And Mal and Molly go on a super cute picnic date.
The original story arc set up in volume 1 seems to have reached its conclusion in volume 2. This volume focuses more on the characters, their time at camp, and character development. The volume is fun, cute, and filled with the same sort of zany antics as the previous two even if the stakes aren't quite as high.
One section is dedicated to the most camp-like of experiences – telling ghost stories. Each girl takes a turn telling ghost stories. This gives the reader a wide range of short tales in a larger framework. These ghost stories weren't frightening, by and large. What they did do was give some insight into the sorts of things each girl thought was scary or would scare their friends. This provided some wonderful characterization and back and forth dialogue between one story and the next.
Later, we follow Riley, Jo, and April during a normal day of camp. This isn't something we've seen before, and it was really nice seeing how the camp opperates on a regular day to day basis. Constant adventuring has meant that our characters haven't had time to do many regular camp activities. Today they are determined to finally earn some badges. The characters act more or less how you'd expect they would, and their attempt at regular badge earning goes just about as well as one would expect.
While Riley, Jo, and April are trying to ear badges, Mal and Molly take time out of the day to go on a picnic. This was a very cute date between the two girls. It's also the only story where we see more of the fantastical, monster defeating Lumberjanes story we've seen in the last two volumes.
Volume 3 also has a different art style than the previous two. Now, I really love the original art style, so it was with trepidation that I went into this. Changing artists is one of the reasons I tend to gravitate towards manga as opposed to graphic novels, after all. Yet, I didn't have anything to fear. The art is different, yes, but it isn't as if the art has changed the tone or feel of the story. Characters are portrayed softer than in previous issues. Edges are  more rounded, and character's eyes tend to be big and soft. Not only has they art style changed, but there were several different artists who worked on this volume together. This method worked particularly well for the first section of the graphic novel, where the characters are telling one another ghost stories. The art style changed from one ghost story to the next, providing a very good visual cue for the end of one section and the beginning of another. It was fun, and a fantastic use of talent from multiple authors.
I enjoyed reading this volume. It was fun. It was cute. I liked seeing the girls in such regular, non-life threatening situations. Let's be honest. These more mundane, quiet moments are too often only found in fan-fiction and fan-art. It was very welcome having these moments shown in canon, and having the creators take the time to show these moments of great characterization and development. If you are a fan of the series, I would suggest picking up a copy of Lumberjanes Vol. 3.