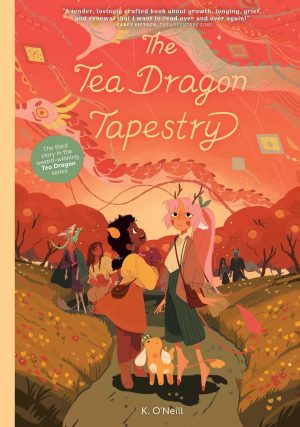 The Tea Dragon Tapestry
By:
Kay O'Neill
Illustrator:
Kay O'Neill
Release Date:
June 1, 2021
Publisher:
Oni Press
Series:
Tea Dragon #3
Received From:
Publisher
(All reviews are our own, honest opinions.)
Rating:
The beloved, beautifully drawn graphic novel Tea Dragon series has seen the release of another installment. The Tea Dragon Tapestry by Kay O'Neill follows the previous two graphic novels in the series: The Tea Dragon Society and The Tea Dragon Festival.
This third book in the series follows the main characters from the first graphic novel, Greta and Minette. Over a year has passed since the happenings of The Tea Dragon Society and the tiny tea dragon Ginseng is still mourning the loss of its previous caretaker. While trying to coax the depressed tea dragon back into a happier existence, Minette is also busy trying to blacksmith the perfect item, one which will convince a legendary master blacksmith to take her on as an apprentice. Meanwhile, Greta has been creating a tapestry, one which she isn't sure how to finish.
This graphic novel is slightly more melancholy in tone than the others, largely due to it dealing with change and loss. Unlike O'Neill's graphic novel Aquicorn Cove, which dealt with the main character's experience of losing her mother quite young, The Tea Dragon Tapestry largely deals with indirect loss. How do you help someone who has experienced indescribable loss? What do you do to make them happy again? How do you deal with a loss you haven't yet experienced, but one you know is coming. Time always moves forward, and people move away, after all. Despite these questions, the book never becomes depressive. An optimistic outlook always remains, the characters uplifted rather than crushed by the weight of their experiences.
Characters from the second graphic novel in the series, The Tea Dragon Festival, also make an appearance. However, reading the second book in the series isn't necessary in order to fully understand this one nor will it diminish your enjoyment of it.
Like its predecessors, this graphic novel is filled to the brim with queer characters, non-white characters, disabled characters, and characters who defy the gender roles so often described to them. Each character is a very real, fully realized character that melds perfectly with the world, organically populating the world with a vast array of peoples.
The Tea Dragon Tapestry by Kay O'Neill is like a warm hug. Despite tackling subjects like loss, it remains an incredibly uplifting book that is sure to put a quiet smile on readers' faces and remains an excellent addition to a stellar series.