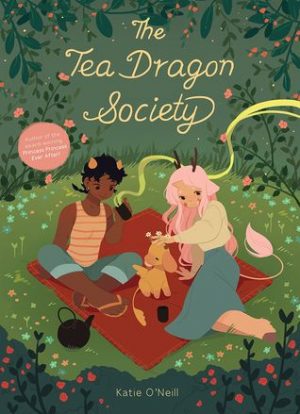 The Tea Dragon Society
By:
Katie O'Neill
Website:
http://strangelykatie.com/
Release Date:
October 18, 2017
Publisher:
Oni Press
Received From:
Publisher
(All reviews are our own, honest opinions.)
Rating:
I picked up quite a number of early copies of books while at Book Con in June. None of them are have stuck with me in the way that The Tea Dragon Society by Katie O'Niell has. This is an amazing graphic novel about a little girl who saves a tiny tea dragon from a pack of wild dogs that will enrapture any reader.
The blurb inside this book (the one in the proof copy, at least) compares it to Studio Ghibli films, How to Train Your Dragon, and Pokemon. Now, two of these comparisons are nearly nonsensical. One is irrevocably true. And I was very pleasantly surprised as to which comparison proved itself. While The Tea Dragon Society does indeed have dragons in it, the similarities between it and How to Train Your Dragon end there. And, while it does have cute, pet-like creatures, it really doesn't remind me of Pokemon at all either.
What it does remind me of? A Studio Ghibli film. And that made be very, very happy.
The story has all of the charm and grace of anything Studio Ghibli has produced. The art is light and beautiful, albeit in a different style than that of the iconic studio's work. The main characters are charming, the story heartwarming, and I cannot recommend it enough.
The world the tale is set in is delightfully fantastical. Very few characters are human. Instead, we have all manner of mystical and non-human creatures. There are dragons, both tiny tea dragons and the ferocious, fire breathing variety. Monsters lurk in the wild places of the world. We see glimpses of markets filled with all sorts of people and all manner of wondrous things. For such a short graphic novel there is a surprising amount of world building. The world feels delightfully fleshed out, and I would love to learn more about this world and its people.
Something I found fascinating about the world The Tea Dragon Society takes place in is the time period in which it is set. This is a world stuck between the normal fantasy affair we see – that time of stone castles and knights hunting dragons – and modernity. The main character's mother is a blacksmith, intent on passing the craft on to her daughter. But things are different now. Most people aren't requesting things like swords and shields or armor. I find this in-between time, this change of one century to the next, a very interesting time that isn't explored in fantasy literature half as often as I'd like to see it.
The art is quite beautiful. A lovely pastel color pallet is used throughout the novel. There are no bold edges, either within the cells or around the cells themselves. Nonetheless lines remain very clean.
This graphic novel is short, but not too short. It says exactly what it wants to say. No more, no less. I wanted to stay, to linger, to live in that world longer. The characters are so very real. Greta is sweet, and I wanted to continue watching her grow up. Minette is wonderful, with a detailed past, and I wanted to see her confidence grow and her come to terms with her past. I wanted to learn more about Hesekiel and Erik's past adventures.
At the end of the book is small section on tea dragons. We are given some more details about these wonderful little creatures. There is information on tea dragons, tea dragon societies, and even individual species of tea dragons. I always love sections at the end of books with extra information, and this one is no exception.
The Tea Dragon Society is perfect in nearly every aspect. I absolutely love The Tea Dragon Society, so much so that I've read it twice and the graphic novel hasn't even been released yet. I would recommend this anyone. Kids. Adults. Fans of fantasy. Fans of graphic novels. If you love fantasy, graphic novels, or just lovely art I'd highly recommend picking up a copy of this. If you aren't a fan of fantasy stories, especially those containing dragons, you may not find this one particularly appealing.