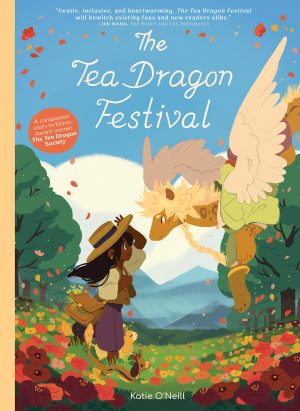 The Tea Dragon Festival
By:
Katie O'Neill
Illustrator:
Katie O'Neill
Release Date:
September 17, 2019
Publisher:
Oni Press
Series:
Tea Dragons #2
Received From:
Publisher
(All reviews are our own, honest opinions.)
Rating:
Set years before Katie O'Neill's The Tea Dragon Society, new graphic novel The Tea Dragon Festival by Katie O'Neill returns to the world of tiny tea dragons. A brand new story featuring brand new characters, this tale is every bit as heartwarming as the first graphic novel which captured hearts all over the world.
The story is set in a small village very removed from society. Rinn is a young nonbinary person honing their skills as a cooking apprentice. One day while foraging for ingredients in the nearby forest, Rinn finds a dilapidated shrine. Sleeping inside isn't one of the tiny tea dragons that roam the village, but a real dragon, sleeping soundly. After being put to sleep by an unknown creature for eighty years, Aedhan must come to terms with missing so many years,
While this is set in the same universe as The Tea Dragon Society, no knowledge of the previous volume in the series is needed in order to enjoy this one. The Tea Dragon Festival is set prior to the events of The Tea Dragon Society and takes place in a different location. However, for fans of the first volume, Hesekiel and Erik do make an appearance.
Friendship, finding one's place within the world, and learning where your passions lie are all central themes to this wonderful story. The pacing is slow, and the tale takes on a more slice-of-life tone. It is a story of heart and warmth, the sort of story that soothes a weary soul.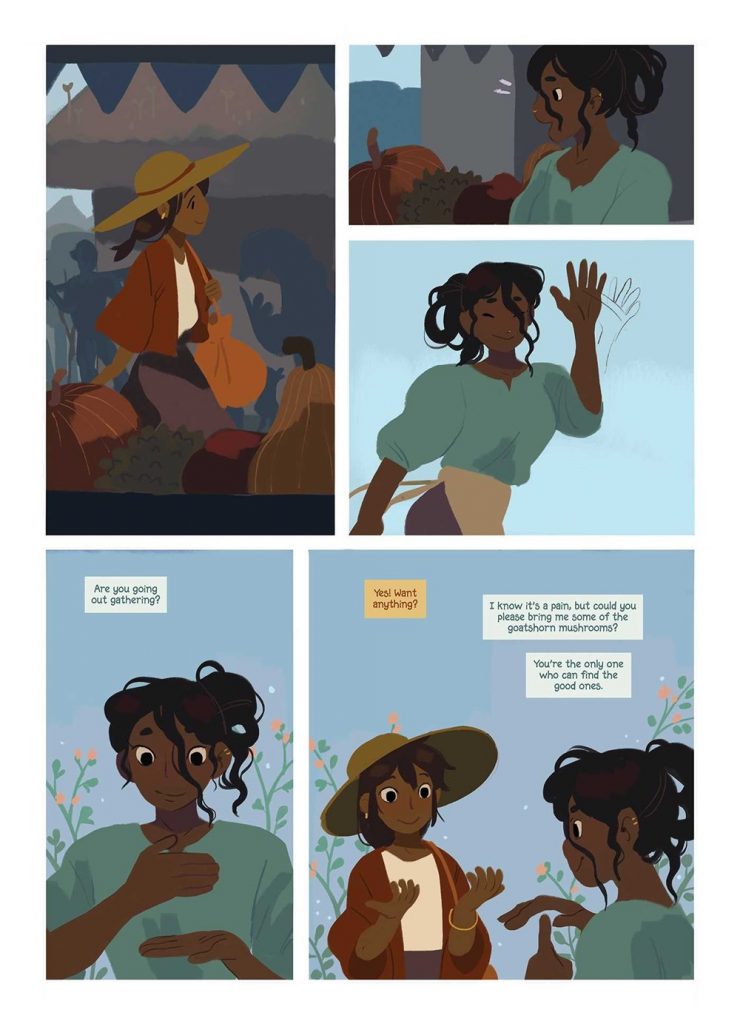 One of the characters within the story is deaf. Some panels depict characters signing, something that the vast majority of the village does well and everyone tries. This deep sense of community, of coming together and learning sign language so as to be able to communicate freely, is warming. Sign language is used directly on the page, something which isn't very often seen.
The art is an utterly beautiful, almost watercolor-like in style. There is little use of lines, and certainly none of them thick black ones. Instead, a calming pastel palette is used. Bolder colors break out in scenes set under a blazing sun, or to highlight the colorful lights adorning the Tea Dragon Festival.
The backmatter of this graphic novel are filled with all sorts of illustrations and information. Like the previous volume, there are sections about the tea dragons and greater dragons found within the pages. There are also links to resources both in the US and New Zealand on sign language and deafness appropriate for both adults and children. The world of the The Tea Dragon Festival is a place that makes a reader want to linger amid the beauty and calm serenity. It is a place where even creatures with bounties on their heads might not be quite so malicious as they are made out to be, and bounty hunters that can recognize the sanctity of life and are willing to pardon their prey. It is a place that will sooth a weary, aching soul, and is a testament to the vision and talent of writer and illustrator Katie O'Neill.