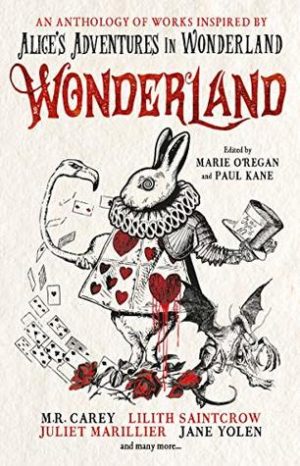 Wonderland: An Anthology
By:
Marie O'Regan (editor) & Paul Kane (editor)
Release Date:
September 17, 2019
Publisher:
Titan Press
Received From:
Publisher
(All reviews are our own, honest opinions.)
Rating:
Wonderland: An Anthology, edited by Marie O'Regan and Paul Kane is an anthology of stories all inspired by Lewis Carroll's beloved tale Alice in Wonderland. This is a brand new anthology released September 17, 2019 now available for purchase.
The book is comprised of a total of nineteen short stories and poems. Authors include Juliet Marillier, Jane Yolen, George Mann, Cat Rambo, and many more. Each story is, of course, different. Though each tale is inspired by the same work, the same literary universe, the stories being told belong to a myriad of genres and feature a huge variety of familiar characters.
Genres span everything from more traditional fantasy to post-apocalyptic to science fiction and more. Each story was a surprise and delight. The Alice element is very apparent in some tales, with Alice herself making frequent appearances and mentions. Other stories make their inspiration apparent in other, more subtle ways. These were some of my absolute favorites of the anthology, such as "There Were No Birds to Fly" by M.R. Carey.
So many of the tales had a very Alice style of prose. Magic, whimsy, and wonder seep through the pages. Each tale was a delight to read. And there are several authors whose other work I am now out searching for.
As with all anthologies, I enjoyed some stories more than others. Overall, though, I greatly enjoyed my time with this collection. Wonderland: An Anthology edited by Marie O'Regan and Paul Kane is phenomenal collection of short fiction inspired by Alice in Wonderland. It is perfect for fans of the original series and anyone who loves magic, the unknown, and the surreal. Pick up a copy. You won't be disappointed.