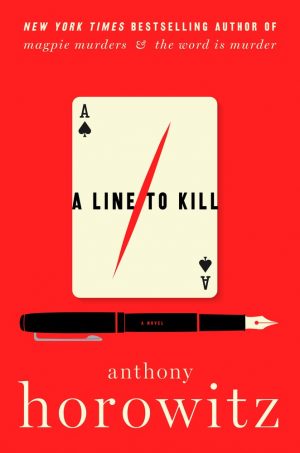 A Line to Kill
By:
Anthony Horowitz
Release Date:
August 19, 2021
Publisher:
Harper
Series:
Hawthorne and Horowitz Mystery #3
Rating:
Prolific author and television writer Anthony Horowitz brings readers another easily devourable installment to his Hawthorne and Horowitz Mystery series. A Line to Kill is the third book to be released, the first two being The Word is Murder and The Sentence is Death respectively.
The series follows a fictionalized version of the author, Anthony Horowitz, whose next book series is set to follow the enigmatic detective Daniel Hawthorne. The first two books follow Horowitz as he accompanies Hawthorne on his private detective duties. This title, however, changes the formula slightly. This time, Horowitz is set to go to a literary festival in promotion for the first book in this series, Hawthorne tagging along to wow the audience as the real-life detective whose ventures are soon to be in print. However, what begins as a rather normal, if small, festival on Alderney soon turns deadly, as first one body quickly followed by a second show up.
Hawthorne is portrayed very much in the vein of Sherlock Holmes. He's quiet but knows how to hold a crowd's attention and can pull whatever information he needs from witnesses and potential criminals with ease. Horowitz paints himself as a bit of a bumbling Watson to Hawthorne's Holmes, following him about on investigations but always managing to slip up somehow—sometimes saying too much to a potential suspect, other times managing to find himself directly in the yet-to-be-caught criminal's line of literal or proverbial fire. The pair make an interesting team, playing very well off of one another in the series, despite Horowitz consistently feeling out of the loop.
Unlike the first two novels in the series, both main characters' lives are brought to the forefront. Instead of simply following another investigation, readers get a glimpse into the life of an author in the form of the literary festival and bits of what goes into that sort of event behind the scenes. For once, it is Hawthorne who is more of the outlier, though things quickly turn into the sort of murder mystery fare the series is known for.
The murder itself lends itself well to the setting, using the island and small-town setting to create a very secluded setting. All of the potential murderers have long since been introduced. The only question is, who is the killer? Like other books in this series, plenty of twists and turns can be expected.
However, it is the dialogue that truly sings in this series. Horowitz has an incredible knack for imbuing tension and humor alike in character interactions. The two main characters may not quite see eye to eye all the time nor does Horowitz seem to fully be on the same page as Hawthorne. However, the two play off of one another beautifully, making each installment in this series a delight to read.
Fans of mystery series, particularly mystery stories in the vein of Sherlock Holmes, will find much to love in this series. While it is possible to read A Line to Kill as a standalone—everything readers may need to know about the series is explained in this installment—reading the entire series will give a fuller background for the happenings here.