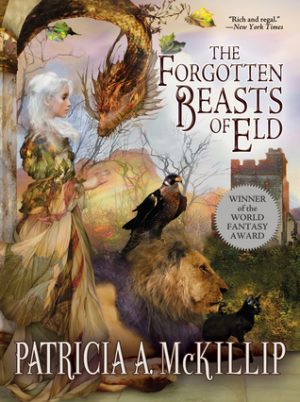 The Forgotten Beasts of Eld
By:
Patricia McKillip
Website:
http://www.patriciamckillip.com/
Release Date:
September 17, 2017
Publisher:
Tachyon Publications
Award:
World Fantasy Award for Best Novel (1975); Mythopoeic Fantasy Award Nominee (1975)
Received From:
Publisher
(All reviews are our own, honest opinions.)
Rating:
Patricia McKillip's novel The Forgotten Beasts of Eld was republished by Tachyon Publications. This World Fantasy Award winning novel is a true treasure, a book that is most definitely worth reading.
The Forgotten Beasts of Eld is a standalone fantasy novel by Patricia McKillip. Sybel is a wizard, the latest in a long line of powerful wizards. She lives atop Eld Mountain, constantly calling the powerful and mystical creatures of long lost stories to her doorstep. Sybel is completely disinterested in the world of men, but that world comes knocking on her door in the form of an infant – a cousin whose mother is dead and whose kingly father, if he is truly the father at all, is apt to kill him. Slowly, Sybel is introduced to the world below, to love, to revenge, and more power than even she thought possible.
The world spun in this novel feels much bigger than it actually is. Partially due to its nature as a standalone novel, we don't follow the characters around on the sort of long, meandering journey that is so often portrayed in high fantasy. The majority of the action takes place in only a few locations, but through the narrative we are introduced to multiple countries and their history. The mythical creatures Sybel cares for have long, historied pasts. It is through these stories that we learn more about Sybel's world. Yet the prose remains tight, never straying too long on other stories or going into unnecessary detail.
The magic used in this books is different than many other magic systems. Names have power. If a person knows someone or something's true name and have magical abilities they can call and bind creatures and people to themselves. Sybel uses this magic to great ends, most notably by binding ancient, mystical creatures to her service and expands upon this idea throughout the novel. I really liked the magic in this book, especially how 'real' it is. This isn't a strange, new magic system created solely for this world. Its roots can be found deep within mythology, a The magic is at once very simply and quite complicated. A lot can be and is done with this idea.
Yet the book isn't only about magic. This is very much a story of people, of relationships, and of learning what love, hate, and revenge truly are. As the story unfolds more characters are introduced. All are locked together in different ways. And all struggle with their own emotions – their love, their hate, their ambitions, their fear.
The relationships between characters were very well crafted. Parental/child relationships are well crafted and heartfelt, especially considering many of the parent/child relationships are between characters not related by blood, but are families made by circumstance and love. The ruler of a neighboring kingdom and his five younger brothers are also portrayed extremely believably. Scenes featuring these characters are a delight to read. The siblings bicker, tease, and point out one another's flaws, but they also support one another, care for each other, respect and accept their decisions.
These relationships are largely foreign to Sybel, especially at the start of the novel. While more skilled than nearly anyone else in the ways of magic, she is quite unskilled in many others. This is an aspect that I don't find quite as well portrayed in most books as they are here. When first presented with the baby Tam she asks how anyone would expect her to know how to care for it. Magical animals can tell her what they need; infants don't have any such ability. Sybel is smart enough not to struggle along alone but to enlist the help of an old witch woman who lives nearby.
I have never read prose quite as lyrical as McKillip's. The language is incredibly descriptive without being overly dense. It is fairy-tale like, adding to the air of magic within the novel. There isn't a paragraph, a line, a word, that is unnecessary. Despite all of her works having this to at least some extent, this is probably the tightest prose I have read in one of her novels.
I always admired Patricia McKillip's book. But this is, by far, the best of her work I have read. The Forgotten Beasts of Eld is a book that will delight any fantasy reader. Take a chance on this book. I promise you won't be disappointed.