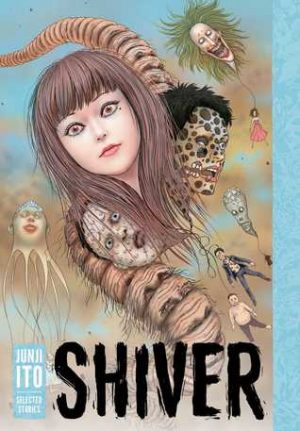 Shiver: Juji Ito Selected Stories
By:
Junji Ito
Translator:
Jocelyne Allen
Release Date:
December 19, 2017
Publisher:
VIZ Media LLC
Received From:
Publisher
(All reviews are our own, honest opinions.)
Rating:
I have always loved horror stories. Yet few manage to evoke that raw fear and discomfort that so many strive for. Junji Ito's works are one exception to that rule. Never have I come across a Juji Ito story that hasn't managed to make me feel something. Releasing tomorrow, December 19, 2017, Shiver: Junji Ito Selected Stories is certainly no exception to the rule.
Shiver is a hardcover manga filled with almost four hundred pages worth of short horror stories by Junji Ito. All vary in theme and tone, but all are frightening. Seriously. Junji Ito is the only person who can instill an unnatural fear of small holes and cooking oil within a person. These stories are meant to frighten. These aren't the sort of scary stories that wrap up nicely. There often isn't a happy ending. People don't always live happily ever after, and evil is sometimes left to wreak more havoc upon the unsuspecting.
This manga is extremely solid. There wasn't a single story that felt weaker than rest either in storytelling or in art. The pacing of this volume as a whole also worked quite well. The first few stories I found quite intense. The pacing felt fairly fast, the tension increased very steadily as the volume went on, and if I'm honest, one in particular I found downright terrifying. Towards the middle of the book the stories tone down just a little bit. They become more mysterious in nature, the tension no longer quite as palpable as before. Honestly, this was needed and allowed the tension and fear to naturally ramp up again as readers come to the ending of the book.
While I don't think any of the stories in the book fell short of the mark, some were a little weaker than others. The details of one or two have begun to fuzz over a little between the time of writing this review and reading the manga, but it was nothing a quick flip to the cover page of that story couldn't fix. Overall, though, I did find the first two or three stories at the front of the manga and again at the end of the manga to be the most memorable.
The art is, as always, nothing short of brilliant. Scenes are detailed, filled with shadows and lines. Characters are often portrayed with soft features, their hair light and fluffy. As characters are gripped with fear, disease, insanity, or any manner of other maladies they begin to change. Monsters are portrayed in all of their hideous glory. The progression of fear and stress on characters is often very apparent.
As always, page turns – or what I can assume are page turns with some certainty as I read an early digital copy – invoke a certain sense of fear. Flip a page and suddenly you are faced with the truth, the very thing that the protagonist is trying to discover or else run from, the thing they fear the most. Yet, this isn't the page turn mechanism used by most. These aren't mere jump scares. These are horrific scenes, ones that would and do have just as much impact when they aren't found on the flip side of a page.
Yet, I have to admit, I still get a cheap thrill from turning the page and finding something horrifying lying in wait.
I will always love Junji Ito's work. I am far from having read his entire body of work, but Shiver: Junji Ito Selected Stories brings me ever closer to that goal. This manga is certainly not for the squeamish or those who don't like horror. For fans of the horror genre this is a true gem that isn't to be missed.