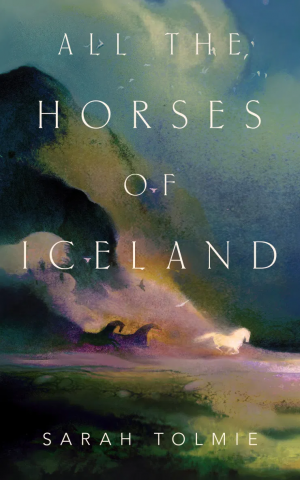 All the Horses of Iceland
By:
Sarah Tolmie
Release Date:
March 1, 2022
Publisher:
Tor.com
Rating:
Sarah Tolmie—author, poet, and writer of sonnets—brings us a novella combining fantasy and historical fiction that captures all the feel of an old tale found in an ancient, labyrinthine library. As a medievalist, Tolmie's knowledge of the time period and literature of the age are keenly apparent in All the Horses of Iceland.
A slow, winding tale in the spirit of the sagas of old unfolds with all the grace and wonder usually found in those medieval tales. In this novella, the Norse trader Eyvind of Eyri leaves Iceland hoping to trade goods for magnificent horses resilient enough to thrive in the harsh Icelandic climate. After meeting another merchant, Eyvind agrees to travel to a faraway place along the Silk Road until they reach the grassy steppes of the Asian continent. What ensues is the story of Eyvind learning the culture of this faraway land, along with the stories about the ghost that haunts them—the deceased wife of the local ruler.
Magic and the unknown are as natural here as breathing in the way they so often are in old tales. Ghosts are only natural. Folk remedies and rituals blend into the local's religion. And above it all is Eyvind, approaching the situation with the mind of a merchant—calculating, mathematical in a way, but with the added knowledge of the religious beliefs, ancient remedies, and legends of his own people. How do you suggest alternative methods for laying the ghost of a beloved family member to rest? Where do the lines of personal belief and real-life practicality blur? And what of the pure-white horse that traverses the plains, always seeming to appear nearby at auspicious times.
Fantasy, ghosts, and the unknown are infused into the tale very naturally. On top of this is a truly fantastic historical fiction tale of adventure and traversing the unknown. Though the lands may be strange and unknown, our main character brings a level of respect to other cultures and a willingness to assimilate and understand local history and culture that isn't often so overtly found. This is a breath of fresh air, something that makes the characters here incredibly likeable and memorable.
Readers of historical fiction will find a great deal to sink their teeth into in All the Horses of Iceland by Sarah Tolmie. Fantasy fans may find a bit of a slower start, one filled more with world-building and characterization of low fantasy than other subgenres. This sweeping saga is well worth a read, never lingering long enough to overstay its welcome.