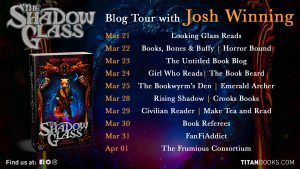 The Shadow Glass
By:
Josh Winning
Release Date:
March 22, 2022
Publisher:
Titan Books
Received From:
Publisher
(All reviews are our own, honest opinions.)
Rating:
New standalone fantasy novel The Shadow Glass by Josh Winning is a surefire hit for fans of The Dark Crystal, stories that explore loss, and high-stakes adventures. This novel is, first and foremost, a love letter to fantasy movies involving puppets, with The Dark Crystal at the top of the list. Yet, this is a case of a story being so much more than the sum of its parts, the sort of story that comes to life, leaps off the page, and lingers long after you've read the final page.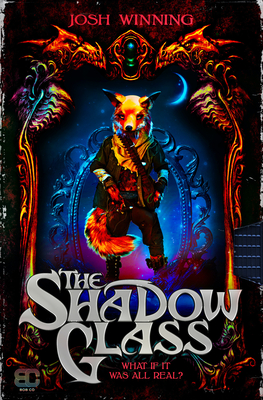 Jack Corman is an unlikeable man. The thirty-something-year-old is a jaded shell of the boy he'd once been. Mourning the death of his father is compounded by long, bitter years of little contact and always coming second to his father's greatest love—the 1986 puppet fantasy movie The Shadow Glass, his greatest work and a film that flopped upon release. Now, Jack is at his childhood home after his father's funeral, an old, decaying maze of a building, sorting out his father's legacy. But the puppets in the attic aren't simply puppets. They're alive, and they, along with the land of Iri itself, needs Jack's help.
On the surface, this novel is an homage to The Dark Crystal, Labyrinth, The NeverEnding Story, and all of their puppet-and-fantasy-filled brethren. It is a celebration not simply of puppetry and movies heavily involving puppets and intricate sets but the lasting power of fandom. No matter how these movies were received critically or how much they made at the box office, they and their creators touched the lives of a generation who carry that story and what it means to them within their hearts for the rest of their lives.
The Shadow Glass is an adventure of epic proportions, an edge-of-your-seat ride with as much intricate character development for our main character Jack as it is a magic-laden, thrilling ride. The pacing is perfect, with quiet, reflective moments interspersed between tense interpersonal scenes and action-packed fight scenes.
Beneath all of this is a story about loss, things left unsaid until much too late, and grief. The tale is as much about Jack losing his father—first when he began drinking while Jack was still a child, later when The Shadow Glass and its creator's reputation spirals, and finally when his father passed away—as it is about adventure, magic, and saving the world. At its heart, this is what the story is about: loss, trauma, and making peace with the past, even if forgiveness isn't earned or warranted.
As much as the novel celebrates fandom, puppetry, and beloved franchises from the eighties and nineties readers who grew up during that time will flock to, it is so much more. It's about learning how to see a parent as just another adult, the struggling and perhaps broken human they are beyond their parental role. And above all else, it is a tale of finally fitting into your own story, realizing your story is about you, that this is your tale and that you are the main character, not letting someone else take over or dictate that story for you.
The Shadow Glass by Josh Winning is a beautifully told tale that is set to be one of the best fantasy releases of the year. It is perfect in all of the best of ways, managing to leave a nostalgic ache to watch a movie from your childhood that has never truly existed at all.