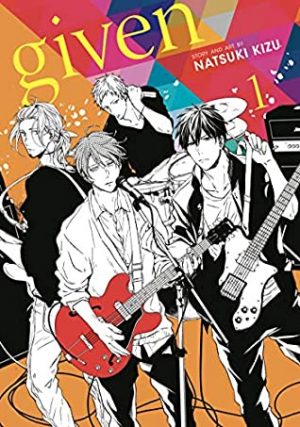 Given, Vol. 1
By:
Natsuki Kisu
Illustrator:
Natsuki Kisu (illustrations); Sabrina Heep (Touch up art & lettering)
Translator:
Sheldon Drzka
Release Date:
February 11, 2020
Publisher:
VIZMedia: SuBLime
Series:
Given
Received From:
Publisher
(All reviews are our own, honest opinions.)
Rating:
Given, Vol. 1 by Natsuki Kizu is a phenomenal new series manga fans will absolutely want to pick up. This is a BL slice of life story about Ritsuka Uenoyama and Mafuyu Sato, an un-put-down-able series that received an anime adaptation in 2019 and is available to watch on Crunchyroll and VRV.
Uenoyama has grown bored of everything – school, basketball, even the passion he had for guitar is fading. One day, an odd boy with a guitar is sitting in Uenoyama's favorite secret napping spot. Sato is a little strange, can't seem to actually play the guitar he loves so much, but can sing in a way that enraptures everyone who listens.
This is a very character driven manga. The majority of the story revolve around these two characters and how they are struggling to move forward with their lives. Uenoyama doesn't have the passion he once did, making his music, and by extension the band he plays in, suffer. Sato is trying to come to terms with the suicide of his ex-boyfriend. He's withdrawn and clearly in pain, though the past isn't something Sato's willing to talk about with Uenoyama, the band, or anyone from his past.
In many ways, this is a story about finding oneself, coming to terms with the past, and learning how to move forward. Uenoyama is lost, but after meeting Sato begins to come back to life and is a mess of confusion. Sato is dealing with immense loss, trying to move forward.
Character dynamics are fantastically drawn as well. The two other band members Akihiko Kaji and Haruki Nakayama are both older than the other two. While Uenoyama may be the most accomplished musician out of the bunch, he's still younger and unsure of things, namely the confusing feelings he has for Sato. The older band members look out for the younger ones, giving big brotherly or musical advice when needed.
Given, Vol. 1 by Natuski Kisu is one the first volume in one of the best series I've begun this year and is quickly becoming a favorite of mine. It is a heartfelt story about characters that you quickly grow attached to. If you enjoy character driven stories or BL manga, this a story that you will absolutely want to read.