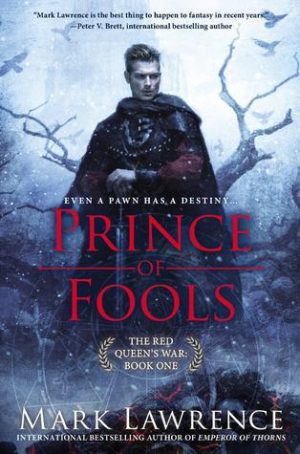 Prince of Fools (The Red Queen's War #1)
By:
Mark Lawrence
Website:
https://www.marklawrence.buzz/
Release Date:
June 3rd, 2014
Publisher:
Ace
Series:
The Red Queen's War
Award:
David Gemmell Legend Award Nominee for Best Fantasy Novel (2015), David Gemmell Ravenheart Award Nominee for Best Fantasy Cover Art (2015), Goodreads Choice Award Nominee for Fantasy (2014)
Rating:
I admit that I bought the Red Queen's War trilogy when it was on sale and that I haven't read the preceding series Order of the Broken Empire yet. Still, I didn't feel lost or utterly confused as I stepped into this new fantasy realm and I am very glad that I took a break from the murder mysteries and thrillers to enjoy this trilogy because it was amazing.
I took my time reading these as I wanted to be sure I wasn't missing a single thing. I could tell from page one that there were going to be a lot of details to remember and people and things to keep track of so I took my time and savored each page. I am so glad I did because as I was farther into the book I felt as if the world was so real to me because I had remembered more and paid better attention which for me is a must with epic and high fantasy novels. I really think this is why some people don't enjoy fantasy genres as much, because they are missing hints and clues throughout the story. I digress.
This story is set in what is known as the Broken Empire and we follow the story of Prince Jalan Kendeth, Jal for short, who is one of the grandsons of The Red Queen. The Red Queen is fierce, powerful and a force to be reckoned with, especially with The Silent Sister beside her, a being that is unseen and unspoken of by all. However, in a twist of events, Jal can in fact see the Silent Sister.
Narrowly escaping a death trap Jal is bound and intertwined magically to Snorri, a fierce Norse warrior. As the pair travel across the empire in an effort to unbind themselves from one another they run into many challenges, near misses and secrets that could spell the end of the Empire if no one does anything about it. War and death await the kingdom if Jal, Snorri and those they trust don't take care of business quickly and get back in time to pass on the information needed to protect the land. Jorg Ancrath, an upstart prince from another nation, is marching on the empire and it is up to Jal and Snorri to help The Red Queen.
On a personal note, Jal is one of the few narrators I truly didn't like. I'm pretty sure I spent 90% of this book calling Jal a dick under my breath while I adored Snorri throughout this book and series. Still, despite Jal being a horrible person the story around him is worth reading, even if it is through his eyes. If you're looking for a new epic fantasy series, don't look any further than here!
Also, this may possibly be one of my favorite quotes in the series;
"No." Snorri cut me off. "I took the prince out of the palace, but the palace is still crammed firmly up the prince's arse. You need to stop moaning about every hardship, stop chasing every woman you lay eyes on, and concentrate on surviving. Out here—" He waved the axe at the bleakness of the mountains.