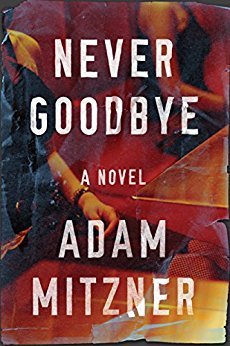 Never Goodbye (Broden Legal #2)
By:
Adam Mitzner
Website:
http://adammitzner.com/
Release Date:
April 24th, 2018
Publisher:
Thomas & Mercer
Rating:
After the events in book one Dead Certain we see Ella come to terms with the fact that she really does love singing more than she loves being in the courtroom so when this story opens up we learn Ella has left her position as a lawyer and is now singing regularly in the clubs around Manhattan.
When a friend, Lauren, is murdered the suspect list piles up. With Gabriel on the case and another friend, Dana, joining in the hunt for the killer things become interesting and tense very fast.
In an effort to avoid spoilers I want to acknowledge that Ella is definitely a bit better in this novel as a character and person overall. Of course, as it happens with most mysteries, the people investigating the crime become the target and there is a real concern that Ella may be next on the killer's list.
This book was a bit better than book number one but as I still have trouble connecting to Ella I'm reserving that final star until I feel fully invested. Book number three, The Best Friend, was recently published in April and I'm definitely going to dive back into this world soon, once I get a few other books shifted from my To Be Read pile to my Read pile.