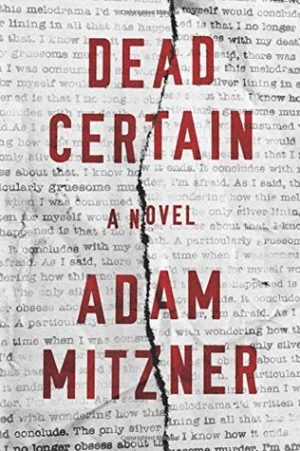 Dead Certain (Broden Legal #1)
By:
Adam Mitzner
Website:
http://adammitzner.com/
Release Date:
June 1st, 2017
Publisher:
Thomas & Mercer
Series:
Broden Legal
Rating:
I admit that sometimes I fall in love with genres and never let them go and obviously that's true for my crime/thriller/mystery stories but can you really blame me? We get suspense, action, a puzzle or two to solve and sometimes a hint of romance. Which, to me, sounds like perfection.
The Broden Legal series came on my radar when Amazon Kindle suggested it to me. I put it in my cart but didn't buy it right away as I was just finishing another mystery series and I wondered if I needed a break from the genre. Instead of taking that break I jumped right into this series, at the time only two books long, and was glad I did.
Ella Broden, are main character and heroine, is an attorney working on difficult cases in Manhattan but at night she sings in darkened clubs under a stage name. When Ella's sister Charlotte tells Ella she's sold her first novel the sisters are determined to celebrate but then Charlotte goes missing. Ella, along with Detective Gabriel Velasquez, must work to find answer and bring Charlotte home. When it seems hints of Charlotte's real life can be found in her sister's book Ella relies on the tales her sister told to find the truth. Matching characters to real people isn't easy and finding answers isn't as straightforward as turning the page to find the answers either.
While I can't say this is my favorite ever, and therefore it is getting four stars instead of five, I will say that I really did enjoy this story overall as the pace, plot and characters drove things forward and kept me flipping through the pages until I was done. Ella may not be my most beloved main character ever but I did enjoy pieces of her such as her passion for those she cares about, her intelligence and her determination to find answers. She's strong-willed and definitely a force to be reckoned with. I'm hoping I will like her more in book number two, Never Goodbye.