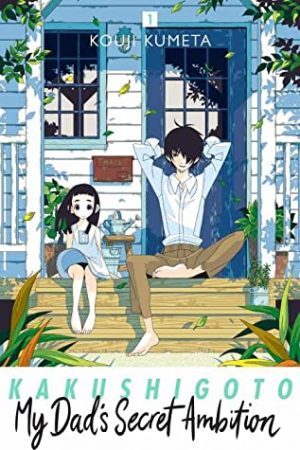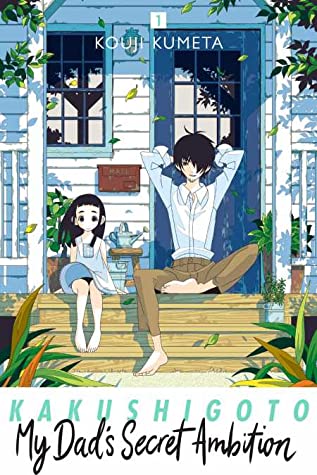 Kakushigoto: My Dad's Secret Ambition, Vol. 1
By:
Koji Kumeta
Illustrator:
Koji Kumeta (illustrations); Kyle Ziolko (lettering)
Translator:
Kevin Gifford
Release Date:
March 17, 2020
Publisher:
Kodansha Comics
Series:
Kakushigoto: My Dad's Secret Ambition
Received From:
Publisher
(All reviews are our own, honest opinions.)
Rating:
A wonderful story filled with funny happenstances and heartwarming moments, Kakushigoto by Koji Kumeta, is sure to bring some joy to your bookshelves. Koji Kumeta is also the talent behind two other series, Katteni Kaizo and Sayonara, Zetsubou-Sensei. Kakushigoto is set for an anime adaptation airing this spring, April 2020 from Funimation.
Kakushi Goto is a manga author and apparent single father to a young daughter, Hime. While maybe not a household name, he does have a wide following with enough fame to be recognizable on the street. The problem? The series he writes is an irreverent gag series filled with raunchiness and humor not meant for kids. Kakushi's goes to extreme lengths to hide his profession from his daughter, convinced she will see him differently and be disappointed if she ever knew the truth. He's also worried that Hime's friends and classmates would make fun of her because of his profession, especially considering the genre.
This manga is at once both a strangely heartwarming slice-of-life story and one that falls well within the realm of humor and gags. The story is told from Kakushi's point of view and follows his day to day life as he attempts to keep his private and work lives as far apart as humanly possible. Of course, this leads to endless complications and misunderstandings.
Unlike other similar plots, Kakushi's extreme lengths always feel a bit more grounded in true fears than just an exploration of funny or awkward circumstances. Real, understandable concerns lie beneath the surface. The worry and stress of raising his daughter manifests in understandable ways – the fear that his profession will make Hime a target of bullies, for example. Yet, as understandable as some of these fears are, they're either blown completely out of proportion or approached from the wrong angle.
Universal truths and fears are touched upon here. Will your children think highly of you? Is your profession something to be proud of? How would you approach aspects of yourself and your life you fear might have some kind of influence the sort of treatment your family receive?
Kakushi's worry over the content he writes and draws makes it seem like pens pornography when in truth its nothing more than a raunchy, humorous manga. The lengths he goes to in order to hide this from Hime are utterly extreme, funny as they are. But Kakushi's actions are easy to understand and sympathize with, even when they make us laugh.
Kumeta's art is full of simplistic beauty. Backgrounds are sometimes more minimalistic, usually when two characters are going back and forth in dialogue. Several quite beautiful full color pages are included at the beginning of this manga, featuring an older Hime.
If you are searching for a funny slice-of-life to enjoy in these trying times, Kakushigoto: My Dad's Secret Ambition, Vol. 1 by Koji Kumeta is certainly a fantastic pick. Funny yet heartwarming, this one delightful series I absolutely continue.