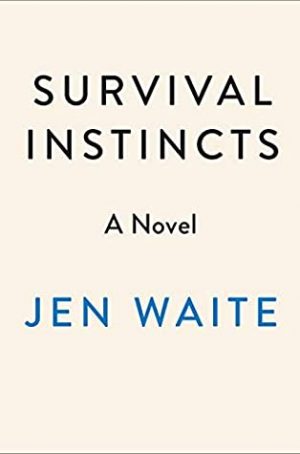 Survival Instincts
By:
Jen Waite
Website:
http://www.jenwaite.com/
Release Date:
July 14th, 2020
Publisher:
Dutton
Rating:
Okay, where do I begin with this? When I put in the request for this book on NetGalley I was so excited to see that my request was approved. After getting the copy sent to my kindle I finished the books I'd been reading and then sat back, ready to dive into this story.
I was only half ready, it seems, as there were a lot of twists and turns throughout the plot and a lot of secrets being held by each of the characters. Whether we're talking about Anne, her daughter Thea, her mother Rose, literally anyone and everyone had a secret. As we all know secrets can be deadly, especially when the story is headed for major conflict.
If you read the book summary you know that this isn't just a story of three generations of strong women bonding while on a vacation in a cabin. Trouble is coming for them, in the form of a strange man and no one can be sure what he really wants from these women.
I will say that while there were slow points in this book for me or things I didn't love 100% overall the book kept me interested, kept me turning pages and kept me cheering for Anne, Thea and Rose while cursing the man (and really all men that appeared in this book, save for Rose's husband Sam.)
One tactic the author used to drive tension and keep readers guessing is veiled hints at the past of each character, the mystery around who Thea's father is, why Thea has scars, why Anne is now a therapist when at the start of all of this she wanted to be a lawyer, wife & mother and, most important to me, how and why does Rose know how to shoot a gun? This tactic was very effective to keep me guessing and to not trust what I thought I knew but at times it did frustrate me, going back to the feeling that I couldn't trust anyone's perspective on the story as the POV shifted throughout the book.
Between strong female characters (especially Rose who is my current hero), mystery, drama, suspense and a healthy dose of action this book was definitely worth picking up and I'm sure I'd have bought it off the shelf if I'd seen it at the store. Thank you to NetGalley & Dutton for allowing me to read an advanced copy of this in exchange for an honest review.