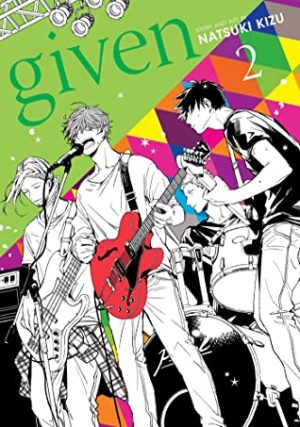 Given Vol. 2
By:
Natsuki Kizu
Illustrator:
Natsuki Kizu (illustrations); Sabrina Heep (Touch-up Art & Lettering)
Translator:
Sheldon Drzka
Release Date:
May 12, 2020
Publisher:
SuBLime
Series:
Given
Received From:
Publisher
(All reviews are our own, honest opinions.)
Rating:
Published for the first time in English in February 2020, Given is a series that has quickly climbed to the top of my 'I need to read every volume right now' list. Given, Vol. 2 by Natsuki Kizu is a fantastic second volume of an un-put-down-able series that received an anime adaptation in 2019 and is available to watch on Crunchyroll and VRV.
This series is about Uenoyama, a gifted but hotheaded guitarist, and Mafuyu, a magnificent singer trying to move forward from past tragedy. Mafuyu has recently joined the band Uenoyama is a part of, and their first live concert is fast approaching. The band struggles to come together musically as emotions run high.
Just like volume one, this is a story about coming to terms with the past, of moving forward, and learning and accepting ones feelings. Uenoyama's been hearing rumors about Mafuyu's past. On top of that, he's confused as to his feelings on everything surrounding Mafuyu – even if it's a little more obvious to his older bandmates. Mafuyu, on the other hand struggles to write the words to the song they are supposed to perform at the live performance.
This is a story about two young men trying to move forward and come to terms with both past and present. While Mafuyu has so much pain in his background that hasn't truly been dealt with, Uenoyama doesn't know
The art in this series is wonderful. Emotions are vivid in characters faces and body language. Despite being a manga, the music can really be felt. The passion and pain, heart and heartache can all be felt.
Given, Vol. 2 by Natsuki Kizu is a fantastic addition to the series. If you haven't begun this series yet, I highly recommend picking it up.